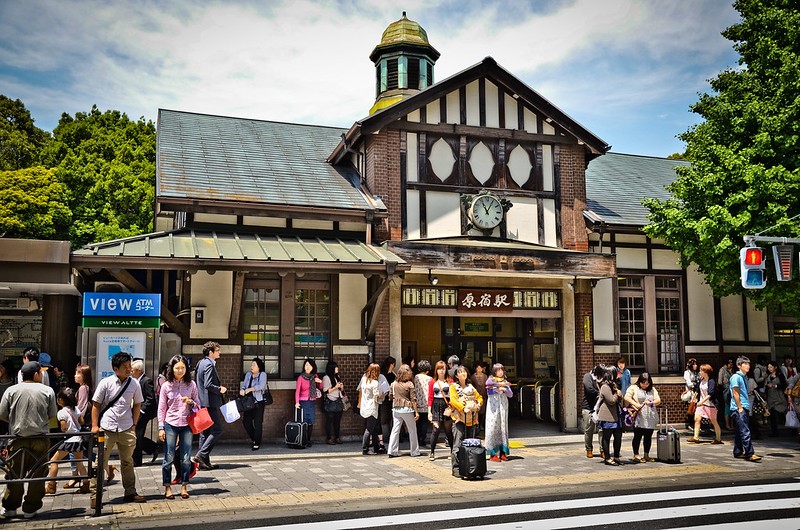 (Image by David Offf via https://www.flickr.com/photos/67162482@N07/6122921436/)
The Birthplace of Kawaii Culture
Harajuku (原宿 in Japanese) is a station located between Shibuya and Shinjuku on the JR Yamanote loop line around central Tokyo. Many people get off the train at Harajuku Station to visit such popular spots as Yoyogi Park, Meiji Shrine and Omotesando, a boulevard of luxury brands and other high-end shopping experiences.
Historically, Harajuku was a post town, which is reflected in the kanji characters that make up its name: "meadow lodging." But today Harajuku has a completely different, and global, appeal as a birthplace of kawaii (cute) culture.
The building that used to house Harajuku Station was a wooden structure that dated from 1924. The old building ended service in March this year and has been dismantled because it did not meet fireproofing standards. Some parts, such as the stained glass, have remained intact since it was built, according to JR East. After the building was demolished, a replica of its exterior is planned to be built near the new Harajuku Station, partially using materials from the old building.
The new station opened earlier this year on March 21 and is a sleek, modern building offering lots of natural light through its large glass windows. It also has a little more breathing room for commuters. The new building is attached to the east and west exit gates, taking people to either the Jingu Bridge entrance of Yoyogi Park, or out towards Omotesando Street. The new station is also directly across the street from the soon-to-open shopping complex With Harajuku, which will feature Japan's first city-centre Ikea.
Get to Know the World-Famous Harajuku Street Fashion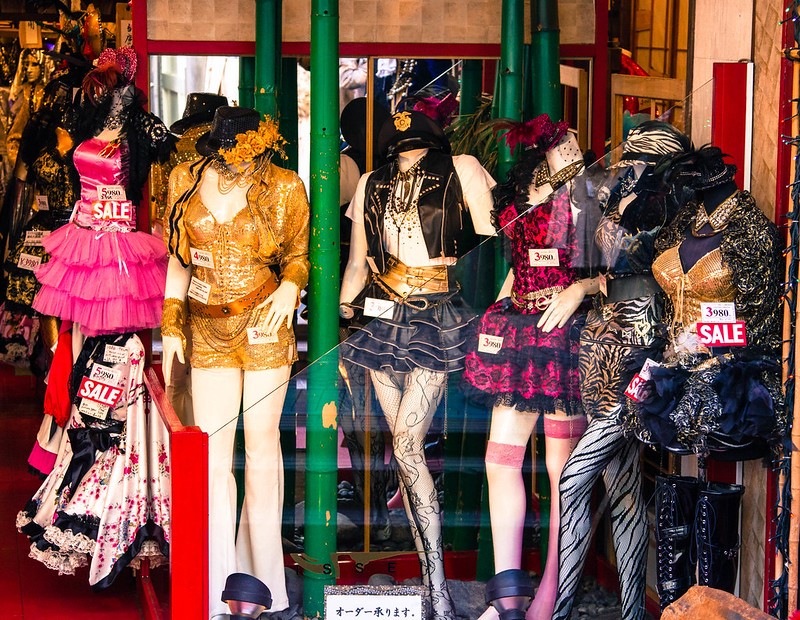 (Image by Deortiz via https://www.flickr.com/photos/zumfelde/11118591334/)
Harajuku styles range from the cute and casual to the extreme. On any given day here, you could run into elegant lolitas in dresses, heavily-pierced goths with long hair, or decora-kei enthusiasts wearing colourful wigs. Since Harajuku is the land of free-spirited fashion, you may even run into cosplayers! Though Harajuku's true heyday of wild fashion may be behind us, there will always be hardcore enthusiasts who carry on Harajuku's fashion spirit. Why not try dressing up yourself? Whether it is tops, sweaters, or shirts, visitors can buy all manner of clothing as well as bags, backpacks and other accessories in a range of styles that you aren't likely to find anywhere else. If you are looking for a really unique Harajuku experience, try a Harajuku makeup or nail salon. Beyond shopping for unique hair clips or changing your hairstyle you might even change your hair colour.
Shop 'til You Drop at the Hundreds of Stores Lining Harajuku's Small Streets
Takeshita Street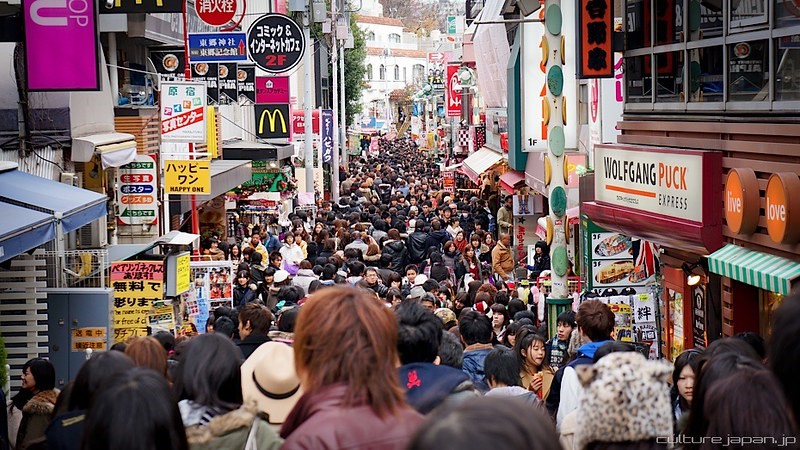 (Image by Danny Choo via https://www.flickr.com/photos/dannychoo/6569320573/)
Harajuku's iconic main street, Takeshita Street, is a must-see on a trip to Harajuku. Located just steps from Harajuku Station, this pedestrian paradise is generally packed most days of the year. Here, you can find some large-scale stores like the hundred-yen shop Daiso or drugstores selling makeup, but for the most part, the street is lined with small, quirky shops hawking inexpensive clothes and accessories. Though it may be a bit of a sensory overload, it is a can't-miss destination that is synonymous with Harajuku itself. As with most anywhere in Harajuku: if the main street is too crowded for your liking, duck down a side street, which is likely to be far quieter and have just as many unique and interesting shops.
Cat Street
Cat Street is the more grown-up version of Takeshita Street, attracting a slightly older crowd. Located between Shibuya and Harajuku, Cat Street is home to a variety of shops ranging from small upscale boutiques to big international brand stores. On Cat Street, you can find anything from a one-of-a-kind vintage sweater to a pair of high-end designer shoes—but unfortunately, there are no cats to be seen here.
Laforet Harajuku, Kiddy Land, and more in Omotesando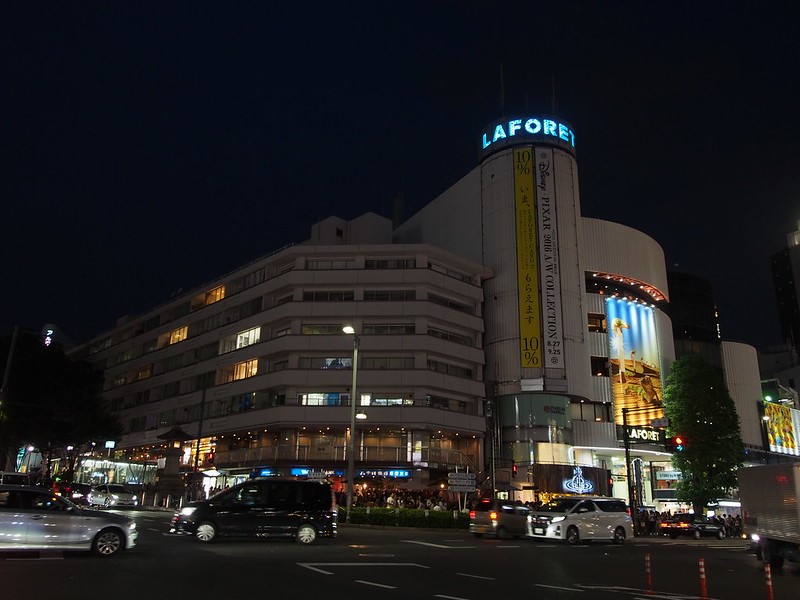 (Image by nakashi via https://www.flickr.com/photos/nakashi/29139952533/)
Laforet Harajuku is a funky, maze-like shopping centre located across the street from the mirror-like Tokyu Plaza Omotesando Harajuku. Inside, you can find shops by local Tokyo brands right next to well-known international boutiques. Give yourself a Harajuku makeover by decking yourself out from top to bottom. Men and women can find items like hoodies, jackets, shirts, and pants here! The fun is all in finding your new favourite stores. Check out the second floor for a variety of dining options.
Kiddy Land is your one-stop shop for merchandise for all sorts of characters. At Kiddy Land, you can find merchandise from both Japanese and foreign franchises. Star Wars sweatshirt? Check. Hello Kitty hair clips? Check. Pokemon backpack? Check. If you can dream it up, it is likely sold here. You can easily find souvenirs here for all of your friends back home, or even do some shopping for yourself at Kiddy Land. One of the shop's top items is stuffed toys of the popular character Rilakkuma.
Harajuku is not all kawaii—there is no shortage of big-name global brands. NIKE set up its first Tokyo flagship store here in 2009. Other international style icons in Harajuku include Vivienne Westwood and Dior. Even if subculture fashion and kawaii culture is not for you, the area is worth a visit for high-end shopping!
More Information
Harajuku (Takeshita Street),
1 Chome-17 Jingumae,
Shibuya City,
Tokyo
Access
Harajuku Station is a station on the JR Yamanote Line, two stations south of Shinjuku and one station north of Shibuya (140 yen from either station).
Only a short walk from Harajuku Station is the subway station Meijijingu-mae Station, which is served by the Chiyoda and Fukutoshin Subway Lines. At the eastern end of Omotesando is Omotesando Station, which is served by the Chiyoda, Ginza and Hanzomon Subway Lines.
Opening Hours
Open daily (Buildings within the premises may have different opening hours)
Admission
Free