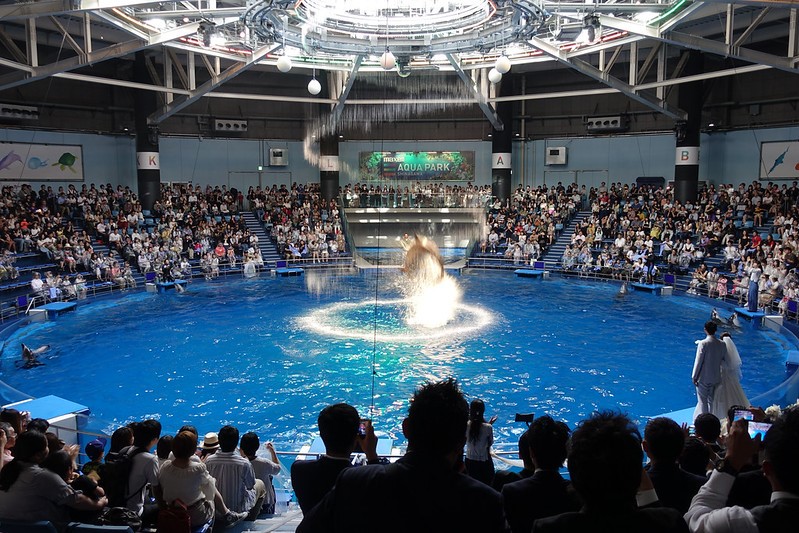 (Image by Zengame via https://www.flickr.com/photos/zengame/28643787448/)
If you can't get to the coast or corals, why not try the Aqua Park Shinagawa in Tokyo? Let the lava lamp loveliness of jellyfish wash over you. Experience the weird wonder tunnel vision of sharks and rays flying over your head. Get your seat early for the dolphin show and make sure you're wearing waterproof kit! The aquarium is packed with awesome otters, sneaky seals and if you're peckish like a penguin, tasty treats.
An Aquarium Inside A Hotel With About 25,000 Fish
Maxell Aqua Park Shinagawa (マクセル アクアパーク品川) is an indoor aquarium (inside the famous hotel, Shinagawa Prince Hotel, and not to be confused with the nearby Shinagawa Aquarium) located in the heart of Tokyo, only 2 mins away from Shinagawa Station.
The aquarium offers a wide variety of sea creatures, approximately 25,000 fish from 350 different species including colourful tropical fish, dolphins, jellyfish, manta rays, capybara, penguin, seals and more on display across 11 divided areas.
The first floor is made up of 4 areas: the Park Entrance, Magical Ground, Coral Cafe Bar, and Jellyfish Ramble, and the second floor consists of 7 areas: Little Paradise, Wonder Tube, Life Museum, Aqua Jungle, Wild Street, Friendly Square, and The Stadium.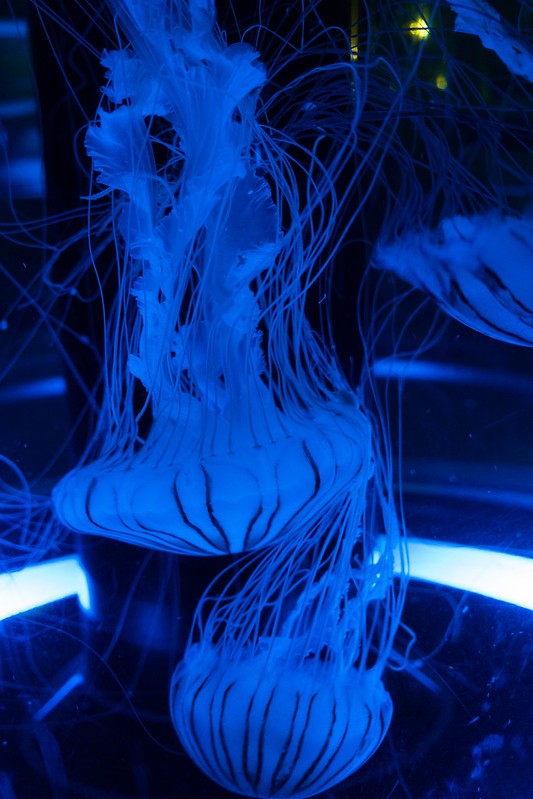 (Image by Zengame via https://www.flickr.com/photos/zengame/42517191351/)
Maxell Aqua Park is not an ordinary aquarium but entertains visitors with the latest art technology and spectacular illuminations along with a wide variety of fish. Some of the exhibits at the aquarium feature spectacular light-up effects which illuminate the fish tanks and sea creatures magically. One of the most impressive areas at the aquarium is the Jellyfish Ramble which exhibits a various jellyfish with colourful lights and relaxing sounds.
Spectacular Dolphin Shows With Light Effects
Along with displays, there are some interactive attractions and ride attractions at the aquarium. There are also cafe and shop where you can stop by for drinks and snacks as well as shopping official products themed with cute fish and animals at the aquarium.
The biggest highlight of Maxell Aqua Park is the spectacular dolphin show that collaborates with light effects and music. The show is held daily (7–9 times a day) at The Stadium (2F) with the day and night versions. The themes of the show also changes occasionally by season such as for cherry blossoms, fireworks, Halloween and Christmas.
Perfect For Aquamarine Lovers!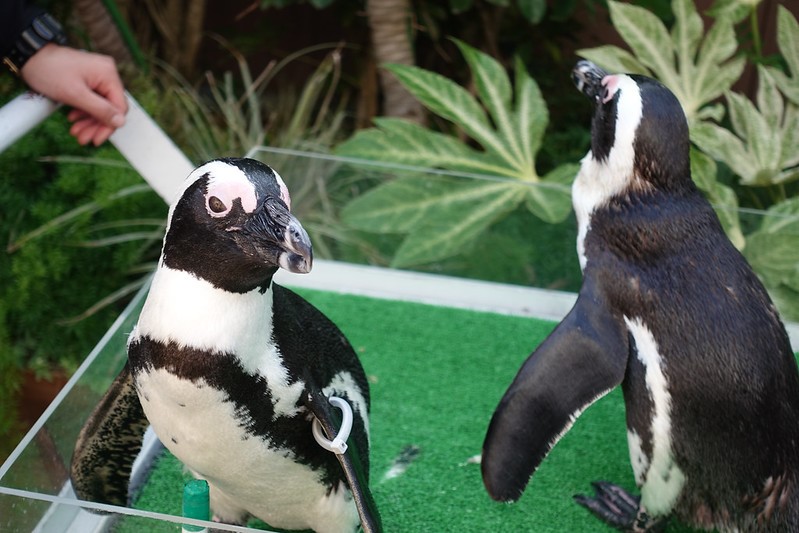 (Image by Zengame via https://www.flickr.com/photos/zengame/40709022680/)
Apart from the dynamic show and exhibitions, there are also special interactive programs where you can actually touch and play with animals including capybaras and dolphins.
Maxell Aqua Park is the most modern and urban style aquarium where visitors can enjoy both watching sea creatures and the digital technology. If you are into marine life, or looking for the best indoor attractions in Tokyo, it is definitely one of the best choices.
The layout of the multi-level aquarium can be rather confusing, so it's worth checking the map on your pamphlet to make sure you haven't missed anything. Although it's a good deal smaller than oceanside aquariums like Enoshima and Hakkeijima, Aqua Park is much easier to get to from central Tokyo, and it provides ample fish-watching and photo-taking opportunities for an afternoon or evening excursion of an hour or two.
Events at Maxell Aqua Park Shinagawa
The Maxell Aqua Park Shinagawa holds seasonal events every season. As mentioned above, the entire aquarium including displays, shows and food & drink menu is decorated with seasonal themes such as cherry blossoms, fireworks, Christmas and more. Such seasonal events are called the "Sakura Aquarium" (March to April), "Naked Flower Aquarium" (April to June), "Naked Star Aquarium" (November to December), and "Snow Aquarium" (December to February).
More Information
Maxell Aqua Park Shinagawa (inside Shinagawa Prince Hotel),
4−10−30 Takanawa, Minato,
Tokyo 108-8611
Access
2 minutes' walk from Shinagawa station (Takanawa exit) on the Shinkansen / JR / Keikyu lines.
14 minutes from Haneda Airport Domestic Terminal Station on the Keikyu Line, 11 minutes fastest from the International Terminal Station.
Access to Maxell Aqua Park Shinagawa is very convenient, about a 2-minute walk from Shinagawa Station. Please use public transport as parking is limited.
Admission
Adult (High School students and above): 2,300 yen
Elementary and Junior High School students: 1,200 yen
Infant (4 years old and above): 700 yen
Opening Hours
10am – 7.30pm (Please check its official website for the latest updates)
Opens daily