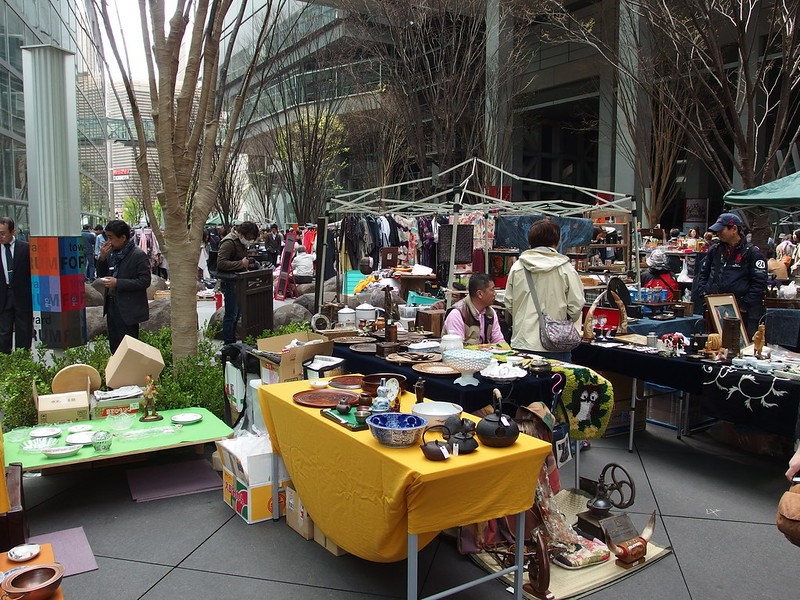 (Image by Guilhem Vellut via https://www.flickr.com/photos/o_0/13842616063/)
Tokyo boasts an abundance of antique markets selling many kinds of valuable antiques. As fascinating as the diversity of merchandise on offer at the markets are the vendors themselves, who have plenty to say about their wares. Interacting with them is one of the delights of a market visit.
One of Japan's Premier Open-Air Antique Markets
Those with a sharp eye for antiques vouch for the high quality of this market, guaranteeing a lucky find or two. This market is called Oedo Antique Market, and it is considered as one of Japan's premier open-air antique markets.
The Oedo Antique Market is Japan's largest outdoor antique market. It usually takes place twice a month under the leafy trees in the courtyard of Tokyo International Forum in the Marunouchi area of central Tokyo. It is close to the lively shopping and drinking Yurakucho area, and near Tokyo Station.
The setting provides quite a contrast: while the Tokyo International Forum is a huge futuristic steel and glass construction, the about 250 dealers constituting the market have their vintage wares spread out on blankets and tables, flea market style.
This is not a flea market, however. The dealers are professional Tokyo antique merchants. They may use all sorts of assorted vintage junk to enliven the appearance of the few square feet they are allotted but they are serious about the items they trade.
From Film Posters To Handcrafted Clothing and More!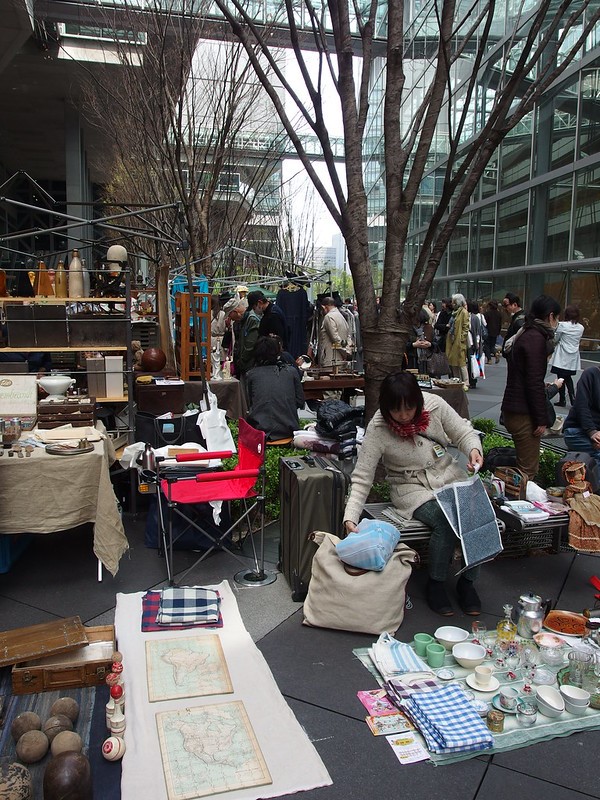 (Image by Guilhem Vellut via https://www.flickr.com/photos/o_0/13842616813/)
The range of antique wares on offer is wide. There is of course a lot of tableware and ceramics but from there it spreads off. Vintage film posters, spring-driven wall and alarm clocks, antique prints of ukiyo-e wood block prints, vintage second-hand clothing and much more.
In fact, much of the clothing on offer is not vintage in itself. It is clothing handcrafted using vintage materials like discarded kimono or noren curtains. The same goes for some of the bags and the jewellery on offer. Young craft people used their imagination and second-hand materials to create something appealing to customers looking for the unusual.
Every item on sale on the market has a price tag attached. These are the prices you pay. There is no haggling, no bargaining at the market. In general, the sound level of the market is very low. No one shouts out their specials, no one does any noisy sales pitches.
The merchants sit quietly next to their wares, decoratively laid out on the sheets or tables constituting their stall. If a potential customer inquires, they patiently explain the special features of the product in question.
Walking through the market, the most often overheard word from those quiet conversations is "mezurashii". Mezurashii translates as "rare".
Prices Can Be Quite Steep, But Reasonable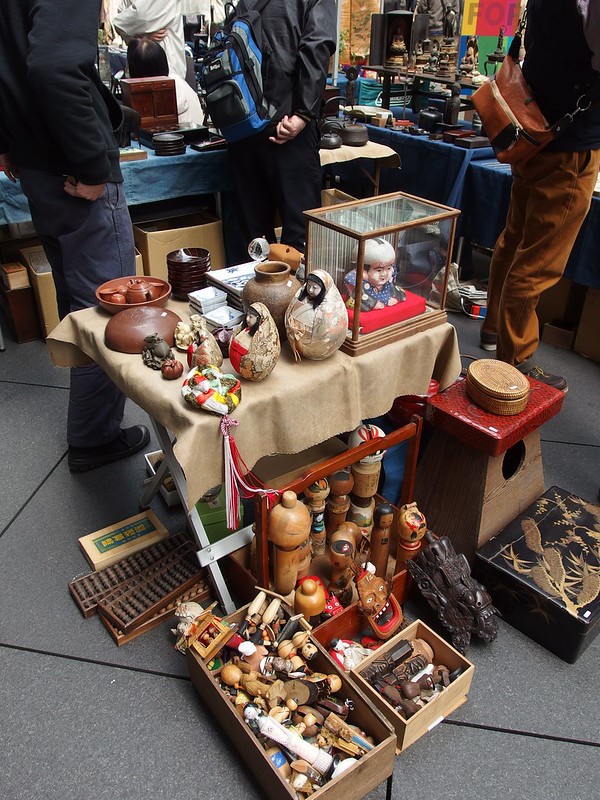 (Image by Guilhem Vellut via https://www.flickr.com/photos/o_0/13842598695/)
These rare wares on offer date, however, in the majority no further back than the Showa Period (1926-1989). Vintage model train locomotives and model cars from the period command steep prices.
As does pretty much anything on sale. At this market, you won't find the mythical original Picasso for under 10 bucks as it is said to have been possible at the legendary Parisian flea markets of yore. The sellers know their products and charge accordingly, plus some.
Nonetheless, the market is a gathering spot for connoisseurs who look exactly for what is on offer here. They come in with their own particular knowledge and won't be swayed by just hearing a "mezurashii". They know what's rare by themselves.
Some of the goods of course do date back further than Showa, dating from the Taisho (1912-1926) or Meiji (1868-1912) eras. Original Edo era items are however rarely to be found at the market, despite the market's name: Oedo translates to "Greater Edo". (Edo being the old name for Tokyo up until the Meiji Period).
More Information
Tokyo International Forum,
3 Chome-5-1 Marunouchi, Chiyoda,
Tokyo 100-0005
Access
Easiest access is from Yurakucho Station on the JR Yamanote Line.
The Tokyo International Forum is also a 10-minute walk from Ginza.
Admission
Free
Opening Hours
9am – 4pm
Opens every first and third Sunday of the month at Tokyo International Forum