The Old Heart of Town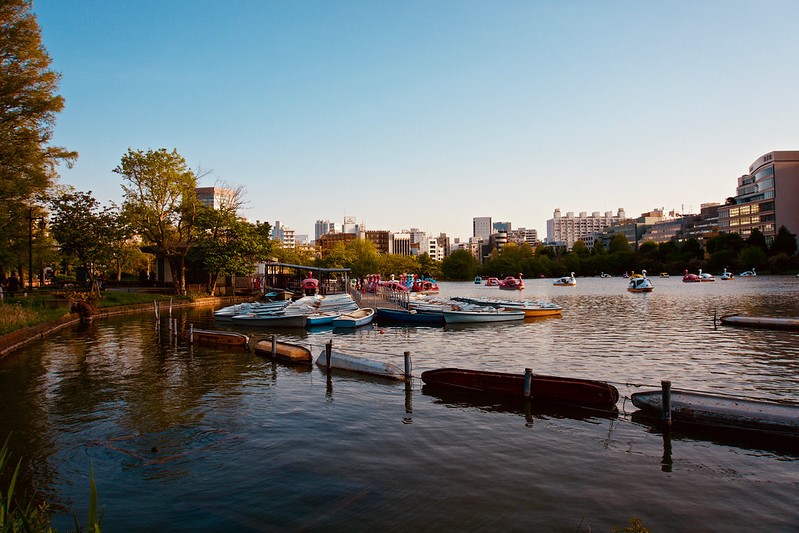 (Image by Natalie Maguire via https://www.flickr.com/photos/natalietracy/42491342465/)
Ueno Park is at the heart of the Ueno area, which is part of Tokyo's "shitamachi"—literally "downtown," but more like "old heart of town." Ueno Park's history begins in 1873, at the beginning of the Meiji Era, when it was established as one of Japan's first public parks. In 1924, Emperor Taisho officially passed the administration of the park to the city, giving the park its official name: Ueno Onshi Park ("onshi" means "imperial gift"). Its long history both as a seat of a culture and as a "people's park" has created a very special mix of elegance and fun.
The list of things to do in Ueno Park is long, and includes Ueno Zoo and a host of incredible museums.
There is no admission fee to enter Ueno Park, but the various facilities have modest admissions fees (many are around 600 yen). Most museums and other facilities open at 9:00 or 9:30 and close between 16:00 and 17:30, and most are closed completely on Mondays. The hours of the park itself are 5:00 to 23:00.
Go to Ueno Station and take the Ueno Park Exit. Ueno Station is a stop on the JR Yamanote Line, which loops around central Tokyo, as well as the terminus for several train lines, including some Shinkansen bullet trains. The park will be just across the street. The park is also close Tokyo Metro Ginza Line and Hibiya Line Ueno Station, Uguisudani Station on the JR Yamanote Line, and Keisei Ueno Station on the Keisei Line.
View Beautiful Cherry Blossoms and Take A Stroll Through Ueno Park and Ride A Paddle Boat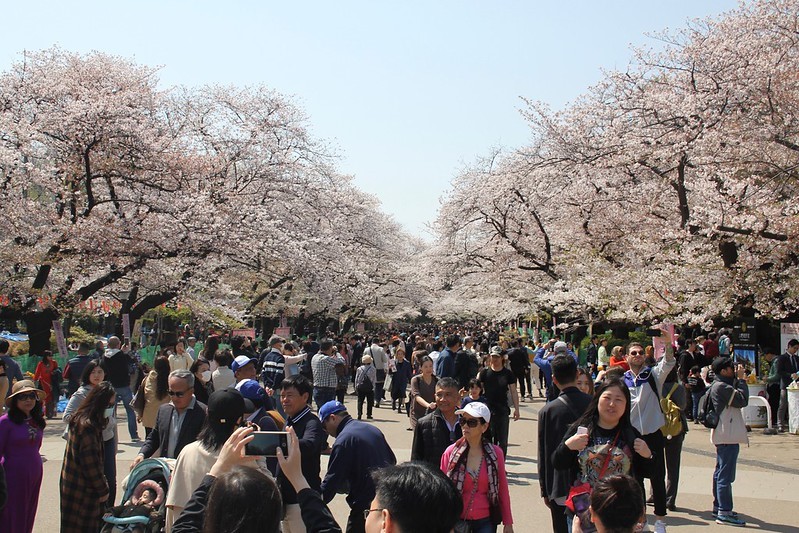 (Image by ivva via https://www.flickr.com/photos/ivva/46638502075/)
The avenue of cherry blossom (sakura) trees along the main path of Ueno Park is famous across Japan. It's long been a popular spot for blossom viewing, and was even celebrated in haiku by the acclaimed poet Matsuo Basho. Hundreds of thousands of visitors visit every day during cherry blossom season, usually late March to early April, for hanami (literally, "flower viewing" parties). Come and enjoy the extraordinary beauty of 800 Somei-yoshino cherry trees in full bloom, and discover events such as the Aozora Antique Market. During the park's official sakura matsuri (cherry blossom festival), a thousand lanterns provide both a sense of security and a wonderful atmosphere for blossom viewing at night.
Ueno Park is also a lovely place to go for a long walk and take in the sights. Enter from JR Ueno Station, look north at the large rectangular fountain leading up to the Tokyo National Museum, then head south down the main cherry blossom boulevard. Near the end of the path take a detour to check out the statue of Saigo Takamori, a samurai who was a key figure in the establishment of the Meiji Era. Then double back to Shinobazu Pond. You can take in the lovely landscape from a distance, or rent a paddle boat and head right out into the water!
Meet The Adorable Pandas of the Ueno Zoo, Experience Amazing Arts & Culture at Ueno Park's Museums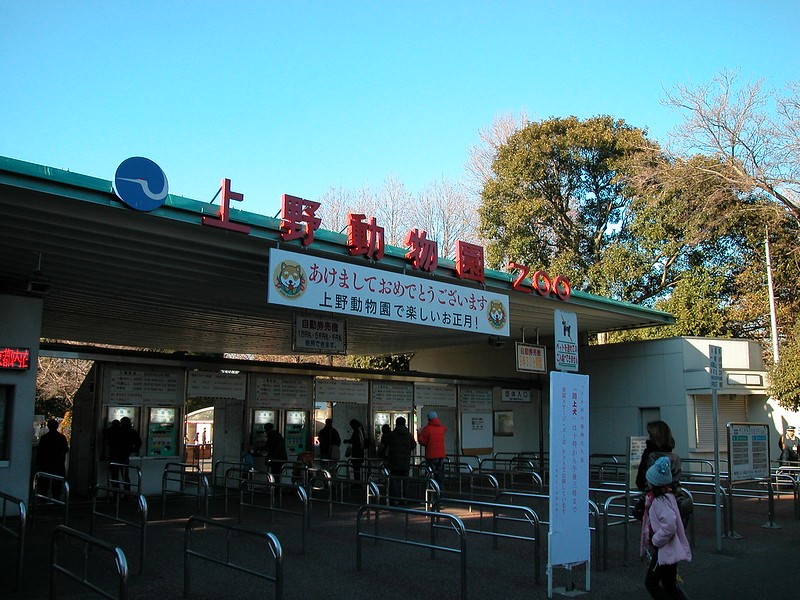 (Image by pelican via https://www.flickr.com/photos/pelican/83656634/)
Home to over 2,500 animals from 350 different species, the Ueno Zoo (official name: Ueno Zoological Gardens) is Japan's oldest zoo, founded in 1882. The zoo, attached to the north of Ueno Park, is split into two sections, a west and east park with varying collections of animals. The two areas are connected by a bridge.
Ueno Park has achieved legendary status in Japan for its giant pandas, and its success at breeding them. Besides the giant pandas, you'll have the opportunity to see an extensive collection of animal species, from Sumatran tigers to western lowland gorillas, South American tapirs, and polar bears.
Aside from the zoo, Ueno Park has arguably the premier group of museums in all of Japan. The variety and the quality of these facilities—which include national museums for Japanese art & artifacts, Western art, and science—are off the charts. Make sure to check before your trip to see what special exhibitions are on. Some highlights are the Tokyo National Museum, the National Museum of Western Art and the Shitamachi Museum.
Visit Ueno Park's Historic Temples and Shrines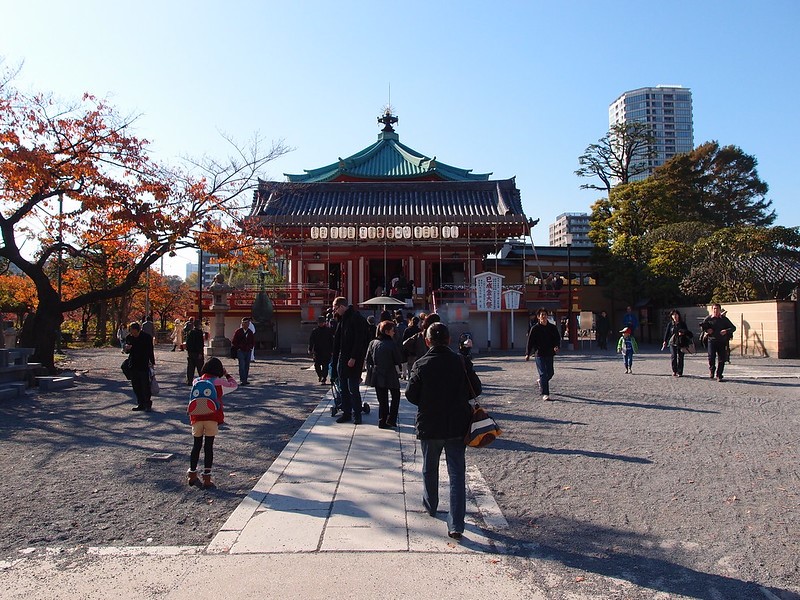 (Image by Guilhem Vellut via https://www.flickr.com/photos/o_0/11096227593/)
The Ueno Toshogu Shrine, dedicated to Ieyasu, the first Tokugawa shogun, is a Cultural Property of Japan that has survived devastating wars and earthquakes since its construction in 1627. The gold leaf decorations and intricate carvings are simply gorgeous. Most visitors come to the shrine to pray for good fortune.
Ueno Park also has a Benten-do, a temple dedicated to Benzaiten, a Buddhist goddess of wealth and good fortune. Sitting in the middle of Shinobazu Pond, the temple building has a distinctive octagonal design.
More Information
Tokyo Metropolitan Ueno Park
5-20 Ueno Park
Taito-ku
Tokyo
Access
Ueno Park is just next to JR Ueno Station. Easiest access is provided by the station's "Park Exit".
Opening Hours
Open daily (Buildings within the premises may have different opening hours)
Closed on New Year's Holidays.
Admission
Free (Buildings within the premises may have different admission fees)