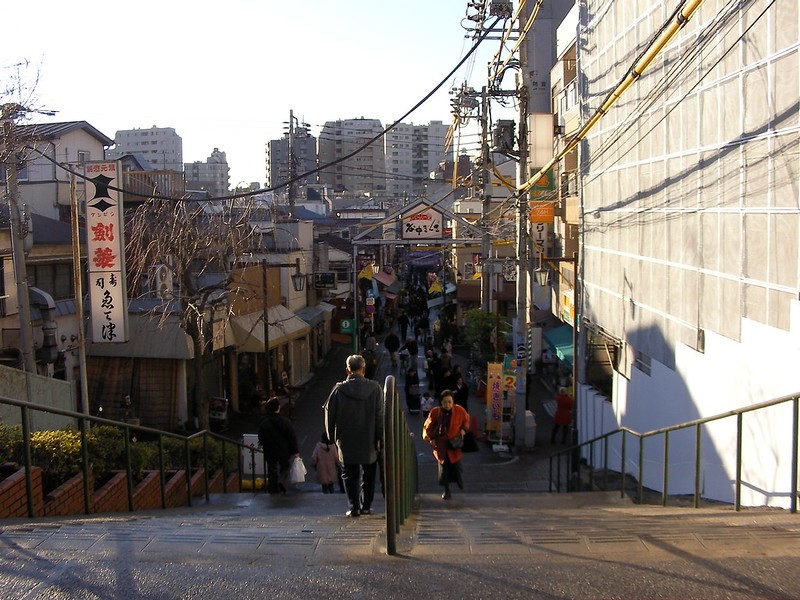 (Image by Yuko Hara via https://www.flickr.com/photos/yuko_ppp/2149224664/)
A quiet neighbourhood with a popular market street, beautiful sakura-lined cemetery and plenty of temples—it's no surprise this part of town is becoming popular, but you might be surprised by just how lovely Tokyo's Yanaka area actually is.
Just a short walk from Ueno Park, the charm of the area is preserved by the tendency to re-purpose older buildings rather than rebuild, creating a contrast that remains somehow reassuring. You can sample the old-fashioned treats of Japan followed up with some modern takes on their specialties, all within meters of each other. Whether you're normally a wanderer or not, here you just can't help it—every side street is promising, and each corner offers myriad possibilities. So, allow us to give you a taste of what to expect before you head out to Yanaka yourself.
The Yanesen Area
Found in the Shitamachi district of old Tokyo, Yanaka forms part of the Yanesen area along with Nezu and Sendagi. Meaning 'under city', Shitamachi was once the lower side of Tokyo both literally (as marshland) and culturally, compared to the affluent Yamanote area. Dating back to the very formation of the city, the division arose when the Tokugawa shogunate gave the higher grounds to the aristocratic families (Yamanote meaning 'mountain hands') and filled in marshlands for merchants and tradesmen. While the names were never official, they stuck and are still used today by way of explaining the atmosphere of different areas.
Miraculously undamaged by wars or natural disasters (largely at least), the Yanesen area has become a popular spot for regeneration. With a temple-town feel, narrow streets, wooden houses and plenty of back alleys to explore, the mix of genuine old spots and their retro-style neighbours is surprisingly pleasing. Of the three areas, Yanaka has the liveliest feel with the busy Yanaka Ginza shopping street, great variety of cafes and coffee shops and the array of temples to explore.
Yanaka Cemetery
A beautifully well-maintained cemetery with a cherry-tree-lined central pathway, this is a lovely start to your wanderings as it is just around the corner from Nippori Station.
Although the cemetery was once a part of Tennoji Temple, it was separated in the Meiji Era and is now the biggest cemetery in Japan, with over 7,000 graves filling the 25-acre space. Despite its size, the graveyard is meticulously cared for and even has its own police box to keep things ticking over.
While the cemetery is generally peaceful, it has its own ghostly stories and tragic tales. Tennoji was once home to a five-story pagoda, but in 1957 two lovers burned it down in a suicide pact, with their ghosts believed to wander the area. These days however, you're more likely to stumble across some of the local cats sunbathing between the twisted trees.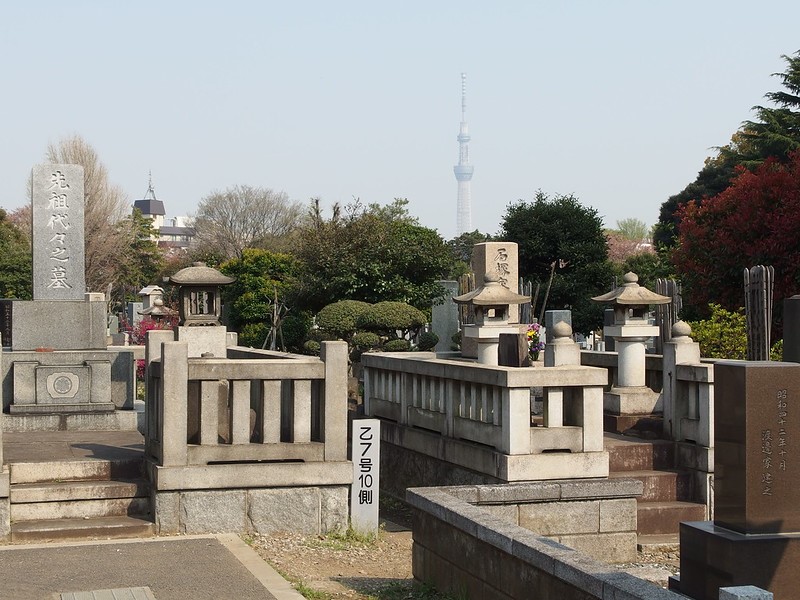 (Image by Guilhem Vellut via https://www.flickr.com/photos/o_0/13782715955/)
There are plenty of famous names in the cemetery, including the last shogun of the Edo period, Tokugawa Yoshinobu along with Ichiyo Higuchi—Japan's first prominent modern female writer, who can be seen on the 5000-yen note. Aside from keeping an eye out for grannies on bikes, it makes for a very relaxing, historical stroll a million miles away from the busy streets of Ueno.
Yanaka Ginza—The Shopping Street
After descending the TV-famous steps into Yomisedori, you can explore the 80+ shops and stalls of this street, which feature everything from bento boxes to butchers, sake bars to sandals and even cat-shaped taiyaki! It's a great spot for souvenir shopping and has plenty of sweet treats and coffee shops to try.
There are art galleries to see and all kinds of food to try, with some special mentions including the cat taiyaki and the 10-yen manju shop: small, sweet balls filled with red bean paste and surrounded in a soft rice flour cushion with flavours like matcha and brown sugar.
For souvenirs and gifts, you can peruse the traditional pottery shops and choose a basket too, or you can go for the more modern gifts. There are some very unusual hanko stamps available for personalisation and plenty of lovely tins and smaller gifts, as well as plenty of cat goods! There are traditional toy shops too, so you'll be sure to find something. If your feet need a break there are coffee shops and sake bars (depending on what kind of day you're having), each with their own style and appeal.
Tennoji Temple
You may notice from any map of Yanaka that there are a lot of temples here, which can make for a great rough plan for your strolling explorations. Temple towns like Yanaka were encouraged because they could be used as forts when under attack. It also means you can't go far without seeing a Buddha peeking out or a golden statue appearing around a corner, which adds to the day.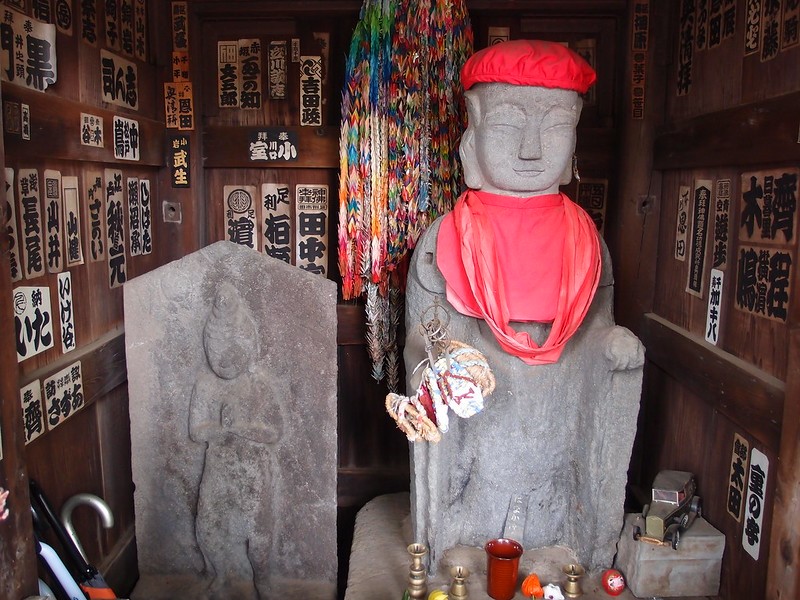 (Image by Guilhem Vellut via https://www.flickr.com/photos/o_0/9281317459/)
Tennoji is the most well-known, with a centuries-old sitting Buddha and lovely small garden. It was founded in 1274 to house a Buddha carved by Nichiren, temporarily closed for heresy but then reopened and later became a seat to the god of resources and bravery. It is also the only one of the Yanaka Seven Gods of Fortune Temples that is in Yanaka, so you can take on that challenge if you care to, but maybe for another day.
More Information
Access
You can take trains to Nippori Station on the JR Yamanote, Keihin-Tohoku and Joban lines, as well as the private Keisei Dentetsu Line. Tokyo Metro's Chiyoda Line also stops off at Nezu and Sendagi stations.
From Haneda Airport: 55 minutes by train.
From Narita Airport: One hour, twenty minutes by train.
From Shinjuku Station: 20 minutes on the JR Yamanote Line to Nippori Station.
From Tokyo Station: 12 minutes on the JR Yamanote Line to Nippori Station.