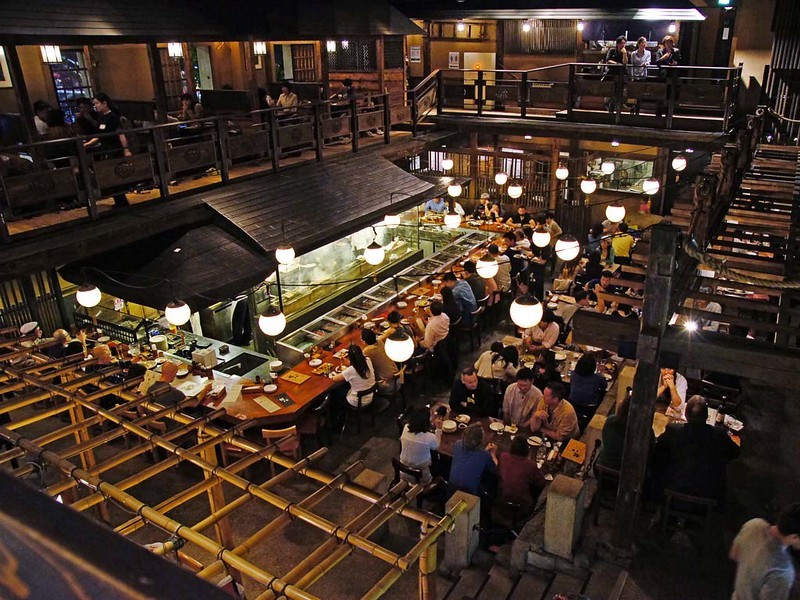 (Image by Thierry Herman via https://www.flickr.com/photos/16448100@N07/14184890261/)
Nestled in the heart of Tokyo, Gonpachi stands as more than just a restaurant; it's a cinematic time capsule that transports visitors to a world of samurai, honour, and bold storytelling. This renowned establishment, often dubbed the "Kill Bill restaurant," owes its fame to Quentin Tarantino's iconic film "Kill Bill," where a pivotal fight scene unfolds within its rustic wooden walls. Beyond its cinematic connection, Gonpachi offers a culinary journey that marries traditional Japanese flavours with modern innovation.
A Glimpse of the Past
As you step into Gonpachi, you are enveloped in a world that harkens back to the Edo period of Japan. The restaurant's interior is an ode to traditional Japanese architecture, featuring wooden beams, paper lanterns, and open spaces that evoke a sense of nostalgia. The ambiance is both rustic and refined, paying homage to the historical samurai spirit while embracing contemporary hospitality.
A Feast for the Senses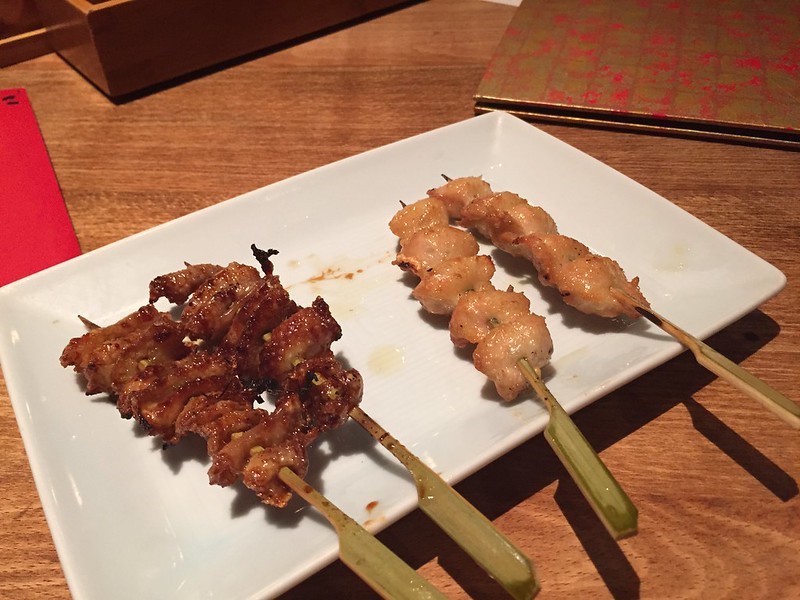 (Image by Kent Wang via https://www.flickr.com/photos/kentwang/16236154232/)
Gonpachi's menu is a harmonious blend of traditional and contemporary Japanese cuisine. As you peruse the offerings, you'll find a range of dishes that showcase the diverse flavours and textures of Japan. From the delicate artistry of sushi and sashimi to the savoury depth of yakitori (grilled skewers), every dish is meticulously crafted to tantalize the taste buds.
One of Gonpachi's signature culinary experiences is its yakitori, a beloved Japanese delicacy that involves grilling skewered meats and vegetables. The yakitori menu at Gonpachi is a testament to the chef's dedication to authenticity and innovation. Guests can savour an array of skewers, from classic chicken to more adventurous options like quail eggs and bacon-wrapped enoki mushrooms. Each bite is a celebration of flavours, showcasing the culinary craftsmanship that defines Gonpachi.
The Kill Bill Connection
Gonpachi achieved international recognition when Quentin Tarantino chose it as the inspiration for a memorable fight scene in his film "Kill Bill." The restaurant's ambiance, with its rustic decor and open layout, perfectly captured the essence of the traditional Japanese setting depicted in the movie. Though the actual scene was shot on a set in Hollywood, Gonpachi's influence is evident in every frame. This cinematic legacy has drawn movie enthusiasts and travellers alike to experience the iconic atmosphere firsthand.
As you dine at Gonpachi, it's not uncommon to feel a connection to the film's characters and their fictional journey. The echoes of sword fights and whispered conversations blend seamlessly with the clinking of glasses and laughter of diners. The restaurant's atmosphere is a testament to its ability to bring the magic of cinema to life, blurring the lines between reality and fiction.
Culinary Artistry: Tradition and Innovation
While Gonpachi's cinematic allure draws visitors in, it's the restaurant's commitment to culinary excellence that keeps them coming back. The menu combines traditional Japanese flavours with innovative twists, appealing to both local diners and international visitors seeking an authentic experience. From exquisitely prepared sushi to the sizzle of teppanyaki dishes, Gonpachi is a stage for culinary artistry.
A Venue for Every Occasion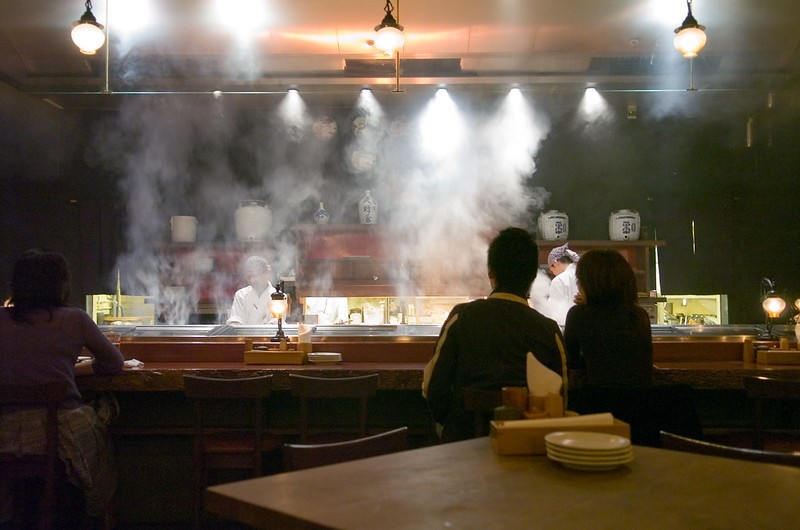 (Image by Dieter Karner via https://www.flickr.com/photos/dieterkarner/275187286/)
Gonpachi's versatile spaces make it an ideal venue for a range of occasions, from intimate gatherings to festive celebrations. Private tatami rooms offer a traditional setting for groups to enjoy their meals in seclusion, while the main dining area buzzes with energy and camaraderie. Whether you're seeking a romantic dinner for two or a lively gathering with friends, Gonpachi provides an ambiance that caters to diverse preferences.
Conclusion
Gonpachi stands as a true testament to the magic of storytelling, both on screen and on the plate. With its cinematic ties and dedication to culinary excellence, it encapsulates the essence of Japan's cultural fusion of tradition and innovation. As you savour the flavours and bask in the ambiance, you're not just dining at a restaurant – you're embarking on a culinary adventure that transcends time and transports you to a world where culinary art meets cinematic legacy.
More Information
Gonpachi Nishi-Azabu
1 Chome-13-11 Nishiazabu,
Minato City,
Tokyo 106-0031
Access
10-minute walk from Tokyo Metro Roppongi, Nogizaka, and Hiroo stations
Opening Hours
Daily: 11.30am – 3.30am
Lunchtime: 11.30am – 3pm