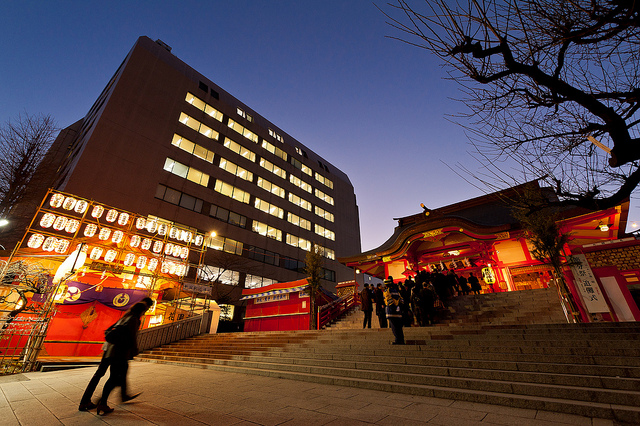 (Source: https://www.flickr.com/photos/pouchin/6647636715/)
Hidden between the skyscrapers of Shinjuku, close to the nightlife district of Kabukicho, the discreet Hanazono Shrine invites calm and meditation in an otherwise unrelenting urban environment. Host to numerous festivals and with a rich history, Hanazono is certainly worth checking out if you're in Shinjuku.
Hanazono Shrine was first established in the mid-17th century but has undergone countless redevelopments and expansions throughout its long history. Although many of these changes have been largely cosmetic, the biggest overhaul of the shrine came in the wake of the firebombing campaigns of WWII, which sadly destroyed large parts of the complex.
Hanazono literally means "Flower Garden". The land surrounding Hanazono Shrine was once part of the Imperial Gardens, now developed with the many tall buildings of Shinjuku. Around the 1830s and 1840s, there were fields surrounding the shrine which were famous for growing bell peppers known as Naito bell peppers. Squash was also grown in the fields which were known as Naito squash or Yodobashi squash.
A number of important festivals are celebrated at Hanazono Shrine throughout the year. This includes New Years Day prayers on the 1st of January, Setsubun Festival and Two Horse Festival in February, Festival Koxinga in March, Flower Festival in April, Shinto Purification in June and December 31st as well as Clock Festival in November. There is also the Hanazono Shrine Festival which is undoubtedly the biggest and most popular.
Hanazono Shrine Festival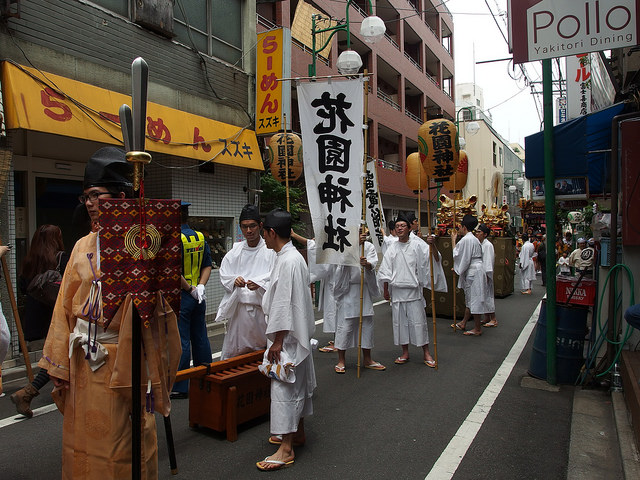 (Source: https://www.flickr.com/photos/o_0/14493917741/)
The Hanazono Shrine festival is held in the last week of May and is famous for its Mikoshi (portable shrine) parade. The shrine, weighing 1.5 tons, is toured through the surrounding streets, carried by the labour of groups of festivalgoers and is an impressive sight to behold.
The Hanazono Shrine had assumed an important position as the shrine of a deity that has protected the Shinjuku district since before Ieyasu Tokugawa founded the Edo Shogunate in 1603. As of this year, it is a year of Yin, referring to the system of Yin and Yang, and thus the parishioners of Hanazono Shrine carry its mikoshi through Meiji-dori, Yasukuni-dori, and Shinjuku-dori.
Stalls that sell yakisoba noodles, takoyaki octopus balls, and ikayaki grilled squids are open during the festive night. The town gets crowded with many visitors every year, so make sure to come early and get a nice spot to see the magnificent mikoshi being carried through the streets.
More Information
Hanazono Shrine
Shinjuku 5-17-3, Shinjuku-ku, Tokyo
Admission Hours
• Open 24 hours
• No closing days
Entry
• Free admission
Access
• 7 minutes walk from Shinjuku station on the JR lines, Tokyo Metro Marunouchi Line (M08), Toei Oedo Line (E27), Toei Shinjuku Line (S01), Keio Line (KO01), or Odakyu Odawara Line
• 3 minutes walk from Shinjuku-sanchome station on the Tokyo Metro Marunouchi Line (M09), Fukutoshin Line (F13) or Toei Shinjuku Line (S02)