Shin-Okubo Station, on the Yamanote Line, is a small station with only one exit. At first glance, the area seems ordinary, the streets lined with convenience stores, chain ramen, and beef bowl shops. Turn to the east, however, head towards the underpass of the bridge, and you'll have stepped into a whole new world.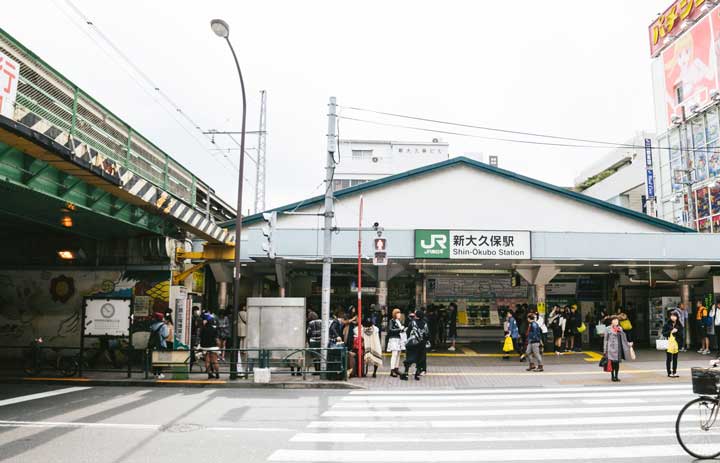 For K-Pop Lovers in Japan
On both sides of the street, Okubo-dori, posters of Korean pop stars and actors line the store fronts. K-Pop and popular Korean drama soundtracks fill the air. In each store, you can easily find K-Pop merchandise (both official and unofficial) ranging from posters, buttons, and albums to jewellery and clothing. Although it is very tempting to purchase items at the first couple stores you see, it is helpful to remember that shops located near the middle or end of the street tend to be cheaper. Some say that upper level stores (whose entrances are less noticeable because you need to climb up a set of stairs first) have more interesting merchandise and much better bargains and set deals, so do check it out for yourself!
Korean Food Anyone?
Restaurants serving authentic Korean food also line the streets and smaller, branching alleys. (I do not suggest trying these restaurants if you are looking for better quality and more authentic Korean food). If you are in the mood for bibimbap, tteokbokki, stews or Korean barbeque, you're in the right place! You may also be tempted to spend a couple hundred yen to try the popular street food, hotteok or hottoku in Japanese. These delightful snacks should not be underestimated! They are usually filled with syrupy cinnamon and brown sugar, some with nuts to add that extra crunch. Most vendors also offer a variety of flavours if you are in the mood for cheese or chocolate.
There are also dessert cafes—if you prefer to sit down and rest your tired legs—located on upper levels (meaning you will have to locate their staircase entrances). Visitors are said to like going to cafés such as Café On, a K-Pop café where customers can order delicious cakes, appetizing pastas and a variety of shakes…all while watching your favourite K-Pop artists' music videos or concert footage! In this café, customers can request videos that will be projected onto a huge screen at the front of the room. If that doesn't spark your interest, maybe the fact that they have a free phone charging station will!
Buy Korean Cosmetics For Less!
Further along the street past the cafes and a large market dedicated to Korean food, cosmetic and beauty shops begin to appear. They carry the well-known brands in Korea such as Etude House or Tony Moly, and popular items such as animal face masks and lipstick tattoos. These stores occasionally have sale events and you may be lucky enough to find a great bargain on items. It is said that their facemasks are typically less expensive than masks you would find at other cosmetics stores in Japan. One of the larger stores near the end of the street sells face masks in bulk packages for around ¥1000.
Unfortunately, this wonderland strip does not stretch on forever and is in fact, quite short. The end is marked by the appearance of convenience stores and the pachinko parlour. The next time you are on the Yamanote Line, visiting Harajuku, Akihabaraor Shibuya, be sure to make a quick stop by Shin-Okubo—at least for the food.
More Information
Shin-Okubo Korean Town
Shin-Okubo, 1 Hyakunin-chō, Shinjuku, Tokyo, Japan
Access
Japan's Korea Town is located in Shin-Okubo, near Shin-Okubo Station, on the Yamanote Line (JR). It's close to Kabukicho, Waseda University and Takadanobaba. To get to Korea Town, simply take a right after exiting the station and walk down the main street. Give it a mere 30 seconds, and you'll be there.