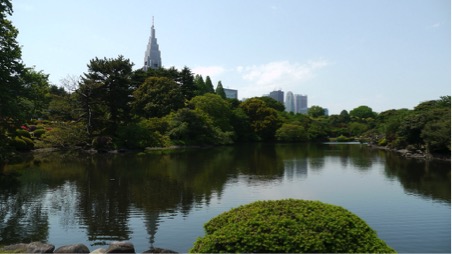 (Source: https://www.flickr.com/photos/hikosaemon/5698226549/)
Shinjuku Gyoen Park is a large, 144 acre (58.7 hectare) park in Tokyo's Shinjuku ward, and is an urban island of Japan's seasonal beauty. Shinjuku Gyoen has gardens, woods, a large and picturesque pond, and hundreds of cherry trees (sakura) which make Shinjuku Gyoen one of Tokyo's most popular cherry blossom viewing venues in early April.
Shinjuku Gyoen is home to more than 20,000 trees from all over the world and is a nature lover's delight in the variety and beauty of its flora, yet with a skyline punctuated with towers.
Shinjuku Gyoen includes a French formal garden, an English landscape garden, a Japanese traditional garden, a "Mother and Child Forest", a maple hill, an azalea hill, several ponds, and a Taiwan Pavilion. Shinjuku Gyoen's great open spaces, forested areas, and lovely groves of cherry and plum trees make it the ideal retreat for individuals, couples and families alike who want a taste of nature without having to leave Tokyo.
History of Shinjuku Gyoen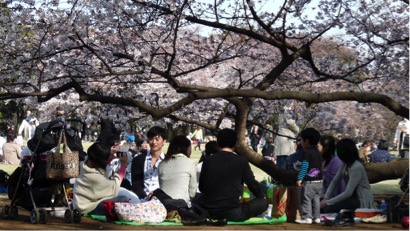 (Source: https://www.flickr.com/photos/dozodomo/5627599438/)
Shinjuku Gyoen began life in 1590 as part of a grant of land that the great warlord who, from 1600 would rule Japan, Tokugawa Ieyasu, made to one of his vassals, Naito Kiyoshige. Almost 300 years later, when Japan started modernizing, Shinjuku Gyoen was the site of Japan's first early experiments with foreign horticulture and forestry, beginning in 1872. Then in 1879 the land became the Shinjuku Imperial Botanical Garden under the control of the Imperial Household Agency.
In 1906, the name changed to Shinjuku Gyoen National Garden when it was remodelled by the French landscaper Henri Martine, a professor at the Versailles horticultural college. The opening of the newly named Shinjuku Gyoen National Garden coincided with Japan's victory in the Russo-Japanese War (see also Hibiya Park) and was attended by the Emperor himself.
Shinjuku Gyoen's famous cherry blossoms (sakura) date from 1917, and its chrysanthemums from 1929. The sakura and the chrysanthemums remain, but the small zoo that was set up in 1926 is no longer.
In 1947, following the democratization of Japan after World War Two, Shinjuku Gyoen changed from being imperial to national land, and was opened to the public under the auspices of the Ministry of Health, Labour and Welfare in 1949. In 1971, administration of Shinjuku Gyoen was taken over by the Ministry of the Environment.
When to visit?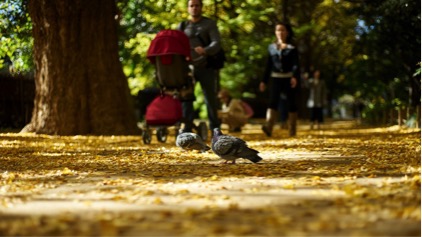 (Source: https://www.flickr.com/photos/93277085@N08/23452323541/)
You can visit Shinjuku Gyoen at any season at any time as it is worth a visit all year round. Especially in spring, between end of March and end of April, the Japanese garden is worth a visit when more than 1500 cherry trees turn the landscapes in all shades of white and pink. The perfectly round trimmed azaleas shine in a bright pink and purple in May and June. There is also a Japanese tea house with a marvellous view of the pond, surrounded by a tree panorama that manages to screen out Tokyo's modern buildings.
More Information
Shinjuku Gyoen
Address: 11 Naitomachi, Shinjuku-ku, Tokyo
Opening Hours
Ø  9am to 4pm (gates finally close at 4.30pm).
Ø  Open every day except Monday (closed Tuesday if Monday a national holiday).
Ø  Shinjuku Gyoen Park is closed for New Year from December 29 to January 3.
Ø  Open continuously (i.e. Mondays too) during:
– March 25 – April 24 for cherry blossom (sakura) viewing.
– November 1 – 15 for the Shinjuku Gyoen chrysanthemum exhibition.
Entry Fee
Ø  200 yen if 15 years old or over
Ø  50 yen for 6-14 year olds
Ø  Free for under 5 year olds
A Shinjuku Gyoen Year-Round Passport is also available for 2,000 yen per annum for adults, 1,000 yen for high school age, 500 yen for children. See the Shinjuku Gyoen website (Japanese-language only) for details.
Access
Shinjuku Gyoen has three gates: the Shinjuku Gate, Okido Gate, and Sendagaya Gate.
Shinjuku Gate
Going to Shinjuku Gyoen's Shinjuku Gate from JR Shinjuku Station (south exit) is about 10 minutes' walk; from Shinjuku Gyoen Mae Station, exit 1, on the Marunouchi subway line, about 3 minutes' walk; from Shinjuku San-Chome Station, exit C5, on the Shinjuku subway line is about 5 minutes' walk.
Okido Gate
Going to Shinjuku Gyoen's Okido Gate from Shinjuku Gyoen Mae Station, exit 2, on the Marunouchi subway line, about 3 minutes' walk.
Sendagaya Gate
Going to Shinjuku Gyoen's Sendagaya Gate from Sendagaya Station on the JR Sobu line; Kokuritsu Kyogijo Station on the Oedo subway line, about