(Image by M S via https://www.flickr.com/photos/kodomut/33722085798/)
Every year, for just over a week, Meguro's usually sleepy riverbanks become a hive of activity, as one of Tokyo's most magical spots to see the annual cherry blossoms. For several kilometres, the sweeping cherry trees provide an arched canvas of blossoms with lit up lanterns, making this a perfect place to admire the scenery, take a walk or grab a bite to eat.
A Leafy Stroll in the Heart of the City
The Meguro River meanders nearly 8 kilometres through several chic neighbourhoods before emptying into Tokyo Bay. Generously landscaped walking paths along its banks and easy access to drinking and dining make it popular year-round.
Much of the Meguro Riverside area provides pleasant walking and a mellow atmosphere that marks a contrast to the capital's urban buzz. The stretch between Nakameguro and Gotanda Stations is renowned for its pretty greenery and easy access to the hip Nakameguro neighbourhood with its many restaurants and bars.
Just beside the river, the Meguro Museum of Art focuses on modern Japanese artists and is worth checking out if you get caught in the rain. So is the quirky, squirmy Tokyo Parasite Museum just a couple blocks from the river. The gift shop alone is worth a look. Further downstream at the edge of Tokyo Bay, Tennozu Isle offers galleries, chic cafes, and waterside dining, including at T.Y. Harbor, a popular brewery restaurant.
The Meguro River is also one of Tokyo's premier cherry blossom viewing spots. Over a kilometre of trees lining the paths on either side of the river in Nakameguro burst into bloom at the end of March and beginning of April, forming a corridor of flower clouds above the river.
When the sun goes down, the paper lanterns strung along the river come on during the Nakameguro Sakura Festival when bands of locals celebrate spring with feasting and drinking on blue tarps beneath the blossoms. Grab a beer from one of the street stalls and bask in the glow of Japan at its most laid back.
Where to Start From?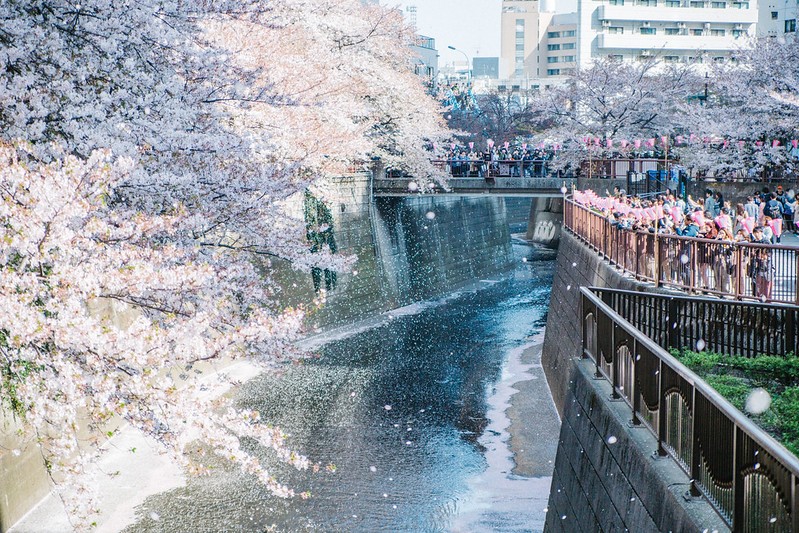 (Image by Dick Thomas Johnson via https://www.flickr.com/photos/31029865@N06/29823667488/)
If you want to take in everything, your best bet is to start at Gotanda and walk to Meguro Sky Garden. It is about 5 km, usually an hour's walk, though with so many people around Nakameguro it is likely to take a good while longer! If you just want the highlights, starting at Meguro Station and walking to Nakameguro should be enough.
Celebrating by Lamplight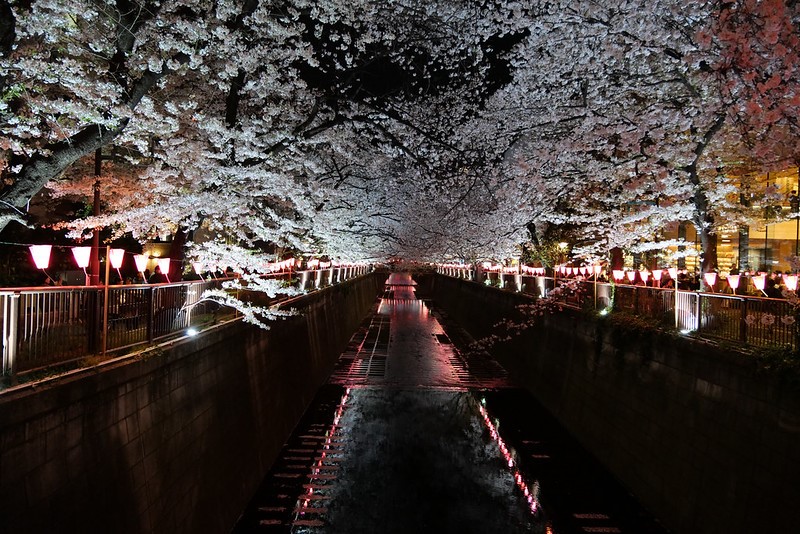 (Image by Zengame via https://www.flickr.com/photos/zengame/47545547531/)
For a totally different effect, visit the river at night. Aside from the music and crowds (and there will be crowds), you will first notice thousands of bright pink lanterns which line the river, each reflected on the surface of the water.
The blossoms on the drooping branches catch the light in a way that is genuinely hard to comprehend—it almost looks too good to be real. Farther along the river (past Nakameguro), some areas are lit up with colour-changing lights, so if you can make it past the sea of selfie sticks, it should not be hard to get a shot in your colour.
Eating and Drinking
During the week-or-so of full bloom, hundreds of stalls congregate along the river, starting closer to Meguro station, intensifying near Nakameguro and finishing by around Ikejiri Ohashi Station (near Meguro Sky Garden). Festival foods like okonomiyaki, takoyaki, skewered meats and Turkish kebabs seem to be most popular and are by far the cheapest way to eat under the canvas of blossoms, at between ¥300 and ¥1,000 per dish.
If you are looking for a sit-down meal or drink to break up your walk, Nakameguro is renowned for its hip bars and foodie hangouts. Word of caution though, you will want to book ahead!
Public drinking along the river is part of the experience for many revellers, so you will also find plenty of opportunities to grab a beverage as you walk. Beers and sparkling wines laced with sweet, cherry blossom–flavoured syrup (and sometimes real petals) are the big sellers. You can also get normal drinks if you're worried about looking like you're having a good time.
There are very few trash cans along the route, so expect to carry your finished cup with you for some time. Most stall owners will dispose of your used cup if you buy a fresh one—a rare case in which drinking more alcohol actually does seem to be the solution to a problem.
Note: In order to prevent the spread of coronavirus (COVID-19), various facilities around Tokyo may change their operating days or hours. In addition, some events may be cancelled or postponed. Please check official facility or event websites for the latest updates and information.
More Information
Meguro River
Meguro-ku, Setagaya-ku, Shinagawa-ku
Access
Short walk from Nakameguro Station
Admission
Free
Opening Hours
No closing hours