While the "inner" wholesale section of Tsukiji has sadly closed, the good news for culinary travellers is that Tsukiji's lively and colourful outer market remains an incredible place to immerse yourself in Japanese cuisine.
Many years ago, when Tsukiji originally began to attract travellers, its highlights were both the outer public portion of the market (jogai in Japanese), as well as the inner wholesale section (jonai).
Then, in the handful of years leading up to the market's move in 2018, Japan experienced an astonishing tourism boom, while culinary travel simultaneously became a global phenomenon.
Tsukiji's Inner Wholesale Market (Jonai)
As a result, overcrowding became an issue at Tsukiji, particularly in the inner wholesale market where the increase in tourism began to interfere with professionals (seafood vendors and chefs) going about their daily business.
Thus, to preserve the integrity of the market's operations, increasingly stringent regulations were put into place to prevent tourists from entering the inner market until later and later. At the time of the move in October 2018, the permitted entry time was 11:00 am, by which point activity in the inner market had dwindled significantly.
So, while the inner market used to be a key part of its appeal, Tsukiji's outer market ultimately became the highlight for most food-loving travellers in the years preceding the move.
Tsukiji's Outer Market (Jogai)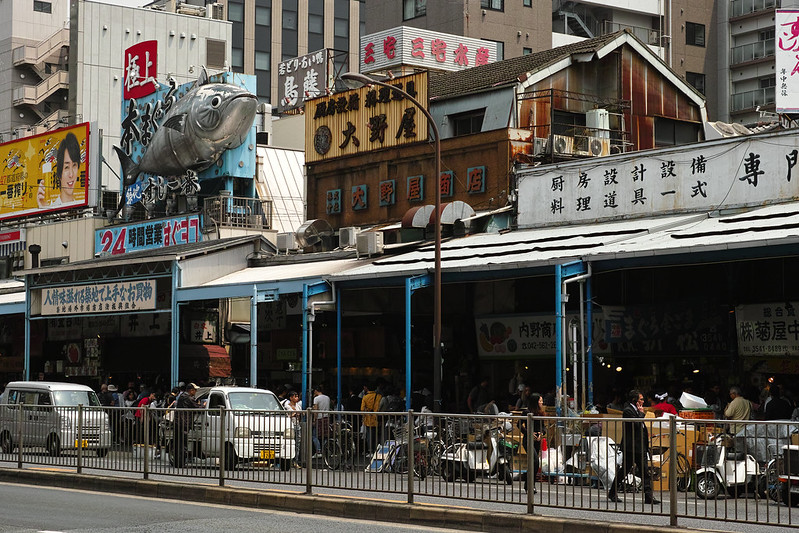 (Image by bethom33 via https://www.flickr.com/photos/92475647@N05/36957981144/)
In Tsukiji's lively outer market you will find historic lanes and alleys packed with a colourful array of shops and small restaurants – not to mention atmosphere and charm to spare.
Highlights of Tsukiji Market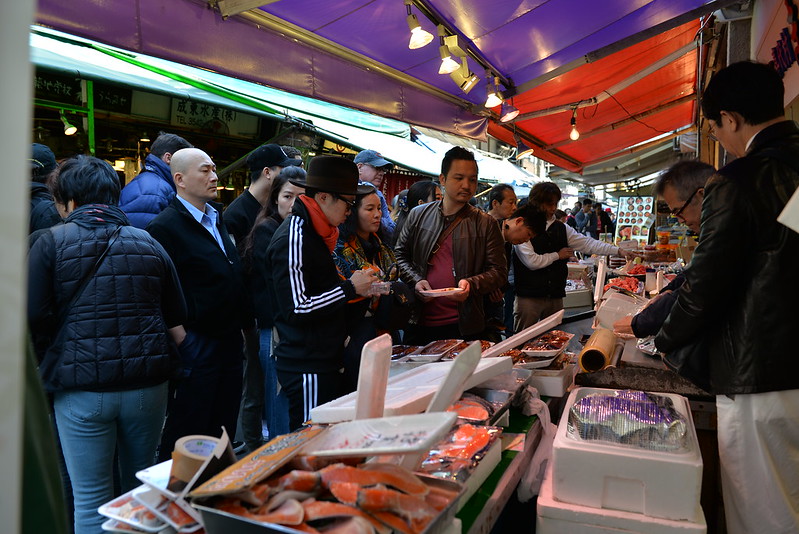 (Image by shankar s. via https://www.flickr.com/photos/shankaronline/48624296646/
Whether you want to eat, or shop for culinary supplies, Tsukiji has you covered. While you will not be surprised to find seafood on offer, there are also plenty of other options as well. If you love to cook, Tsukiji is a fantastic place to stock up on Japanese ingredients for your pantry, not to mention buy a top-quality Japanese knife!
As you wander about Tsukiji you will come across:
Tiny sushi counters
Casual ramen stalls
Vendors selling everything from fresh seafood, to fruits and vegetables
Purveyors of Japanese staples such as tea, kombu, katsuobushi, and nori
Japanese knives
And much more
Make sure to bring cash, as even today many shops do not accept credit or debit cards.
There are countless places to eat at Tsukiji, though you will find that some shops have long lines from early in the morning.
Tips on Visiting Tsukiji Market
Here are some essential tips to help you get the most out of your visit to Tsukiji.
1. Check Tsukiji Market Business Hours
The official opening hours for Tsukiji Market are from 9:00 am to 2:00 pm. However, most shops are closed on Sundays and national holidays, and many shops close on Wednesdays, too.
2. Pack and Dress Appropriately
A small bag, backpack or purse may be fine, but definitely avoid bringing large backpacks, suitcases, or other unwieldy items (leave these at your hotel or in a station locker).
Make sure to wear closed-toe shoes – such as sneakers or boots – that can get wet.
Avoid perfume or cologne as this can interfere with vendors' and shoppers' sense of smell (and taste). If you cannot move nimbly through Tsukiji, you will be in the way – and will not have as much fun!
3. Access: How to Get to Tsukiji Market
Tsukiji Market is located in the heart of central Tokyo, near the upscale Ginza neighbourhood, the lovely Hamarikyu Garden, and lively Shimbashi.
Visiting the New Toyosu Market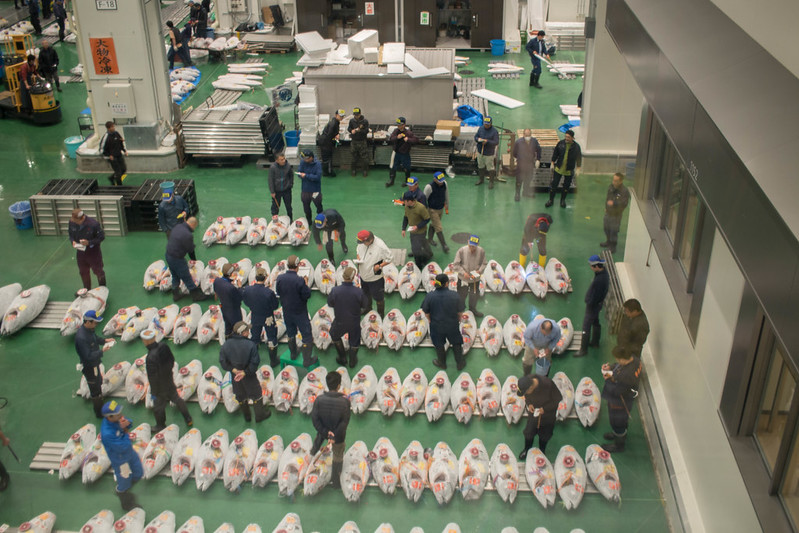 (Image by LWYang via https://www.flickr.com/photos/lwy/45967190411/)
Now that the wholesale operations have moved from historic Tsukiji to modern Toyosu, many travellers wonder whether they should visit Tsukiji, Toyosu, or both.
It is not a simple answer, but we recommend focusing on Tsukiji, especially if you only want (or have time) to visit one. Apart from the fact that its location is a little bit out of the way, the modern Toyosu Market lacks the old-fashioned charm and atmosphere of Tsukiji.
The new Toyosu market complex will hold some appeal to market lovers (and also boasts many eateries), however please note that it is not possible to enter the active market itself, and market activities can be viewed from observation decks enclosed by glass.
More Information
Tsukiji Outer Market
Tsukiji, Chuo City
Tokyo 104-0045
Access
Tsukiji Outer Market is located a short walk from either Tsukiji Shijo Station on the Oedo Subway Line or Tsukiji Station on the Hibiya Subway Line. The closest JR station is Shimbashi, from where you can walk to the market in about 20 minutes.
From Tokyo Station
Take the Marunouchi Subway Line from Tokyo to Ginza (3 minutes) and transfer to the Hibiya Subway Line to get to Tsukiji Station (3 minutes). The fare is 170 yen.
From Shinjuku Station
Take the Oedo Subway Line directly from Shinjuku Station to Tsukiji Shijo Station. The one-way trip takes 20 minutes and costs 280 yen.
Opening Hours
Varies by shop, typically 5:00 to 14:00
Closed on Sundays and national holidays. Some shops also close on some Wednesdays.Admission
Free