The distinctive white building is a modern-day icon, beautiful in its simplicity and minimalism. It was designed by architect firm Kume Sekkei and makes the most of the relative lack of space: there's only 200sqm of floor space to play with here. To make up for it, they've created a structure of stacked 'cubes', with windows at alternate angles to let natural light seep in and give each floor a sense of airiness.
Getting tickets has proved to be akin to juggling underwater, and all tickets for the inaugural exhibition have sold out. Whether you managed to bag some and are curious about what you'll see or are weeping in a corner because you didn't and now need some armchair browsing, we've got you covered.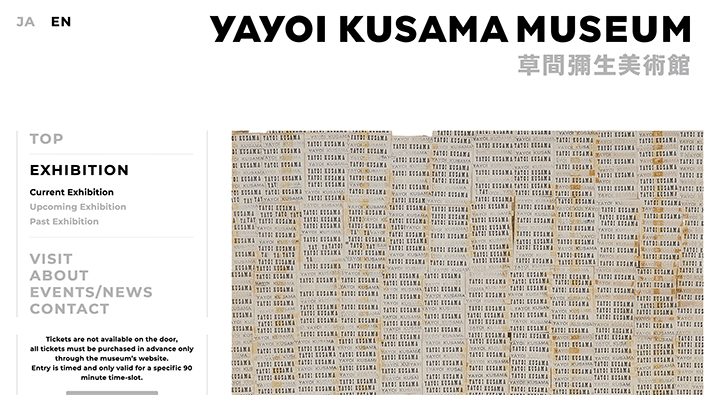 Source: https://yayoikusamamuseum.jp/
1F: Entrance, reception & shop
When entering, you'll walk through the set of glass doors – head straight to the reception to show them your (e-)ticket and pick up some leaflets. None of the artworks in the museum are numbered or named on the walls; you'll have to stick to the paper for that.
The giftshop is right next to the entrance too, with a curated selection of goodies.
2F: Exhibition gallery
Heading up the narrow staircase at the back of the first floor (or the elevator), you'll find yourself in the first exhibition room. In November 2017, it was decked out with almost un-Kusama-esque black and white canvases, all screen prints of paintings originally made with black markers.
The entire series, named 'Love Forever', comprises 50 works, which were made between 2004 and 2007; 27 of them are on display here. Most, if not all of them have facial features motifs – look long enough and you'll find that some leaves are actually mouths, and much more.
3F: Exhibition gallery
Yayoi Kusama may be famous for her pumpkins and polka dots, but her most recent massive retrospectives have often focused on her My Eternal Soul series, which runs to this day. Started in 2009, her output is staggering: she originally finished one canvas every day or two for years on end. So far, she's managed to rack up a whopping 530 to date, all of them unique.
During the inaugural exhibition, you could find 16 of her most recent works here, selected by Kusama herself. The staircase loops around the wall, and the big windows give the entire gallery a much lighter feel than the one below.
4F: Installation room (infinity mirrors room)
The ultimate Insta-artwork, Yayoi Kusama's very first Infinity Mirror Room was created way back in 1965. Talk about being ahead of the times. They've since blossomed into arguably her most famous artworks, only second to her pumpkin perhaps.
Luckily, the pumpkins and mirrors are married in her latest one, specially created for the museum. Going by the mouthful of 'Pumpkins Screaming About Love Beyond Infinity', it's presented inside a raised cube, in a pitch-black room. The pumpkins are lit up in random order, and then go dark again, in a never-ending pattern. Most intriguing, you can walk all around it, and won't be able to see the person standing on the other side – it's all one-way mirrors here.
5F: Rooftop sculpture and reading room
You've made it to the top! Now all that's left is to gaze out at the Tokyo skyline from this open rooftop space… with a very glittery pumpkin as part of the view. This new 'Starry Pumpkin' is one of Kusama's latest pieces too and is set to be there for the next exhibition.
Back inside, you'll find a reading room with a number of catalogues from Yayoi Kusama exhibitions across the country and the world, as well as biographies, picture books and more in a plethora of languages. After this, all you can do is head back down by elevator and bid goodbye to Kusama-land… but not until you've taken a few selfies.
More Information
Yayoi Kusama Museum
107 Bentencho, Shinjuku City Tokyo 162-0851
Access
Waseda isn't exactly on the tourist trail, but it's easy enough to get to on the Metro Tozai line. Depending on your route, you'll probably change either at Takadanobaba, one stop to the west, or Iidabashi, two stops to the east.
Admission
The Yayoi Kusama Museum limits its intake to avoid overcrowding, and you are only allowed to stay for 90 minutes. As with many popular Japanese attractions, applying for tickets can be an involved process. In this case, the only way to get them is to book online—over two months in advance. Fortunately, the system itself is pretty straightforward, and the site's English translation is top-notch. New tickets are released at 10am on the first day of each month.
Tickets are ¥1,000 for adults and ¥600 for ages 6-18.