Discover a world full of wonder and beauty with a ticket to teamLab Borderless Digital Art Museum. The museum uses digital projectors to create animated artworks which move on the walls, floors, and ceiling. Interact with these stunning pieces and watch as they move and respond to you.
What is teamLab?
teamLab is an art collective widely renowned in Japan for their immersive digital art exhibitions. The collective is composed of professionals from various fields, not only in the arts, such as programmers, engineers, mathematicians, and architects. They have also been recognised in different parts of the world for their ground-breaking representation of modern art.
teamLab has been holding art exhibitions in different parts of Japan since it was founded in 2001, but their first-ever permanent exhibition was launched in June 2018 in Tokyo. The exhibition is called teamLab Borderless, in partnership with Mori Building, and aims to transcend boundaries between art and people.
The exhibition is a collection of different artworks that seem to have no end and no boundary, each transitioning seamlessly into the next. It is housed within a 10,000-sqm building and contains about 50 digital artworks divided into five zones.
1.   Borderless World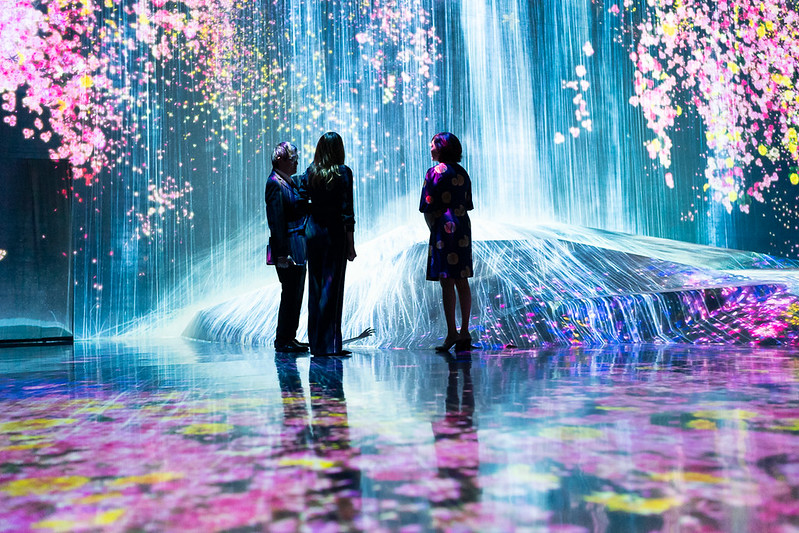 (Image by The White House via https://www.flickr.com/photos/whitehouse/47958719236/)
The first zone that welcomes people inside teamLab Borderless is called the Borderless World, a place that echoes the fantastical world of nature. Lights, flowers, and streams react to the presence of people, making the zone amazingly immersive.
2.  Athletics Forest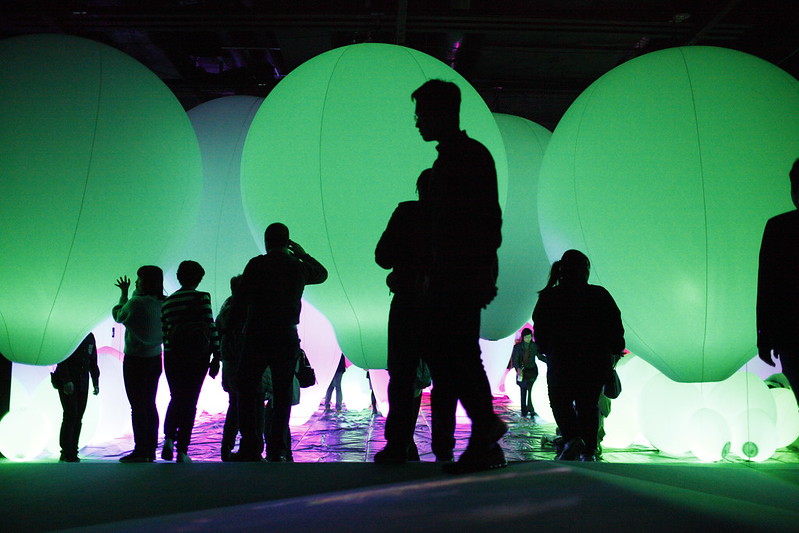 (Image by Jonas Forth via https://www.flickr.com/photos/jforth/46496393905/)
Dubbed by teamLab as a "creative physical space," the Athletics Forest encourages three-dimensional exploration through the body. There are different physical challenges like 3D light bouldering, galactic trampoline, and aerial climbing.
3.   Future Park
Specially made for children, Future Park is an educational zone that fosters creativity. There is an area called Sketch Aquarium, where kids get to colour ocean creatures and bring them to life through a digital scanner that releases their artwork into the digital world.
4.   Forest of Lamps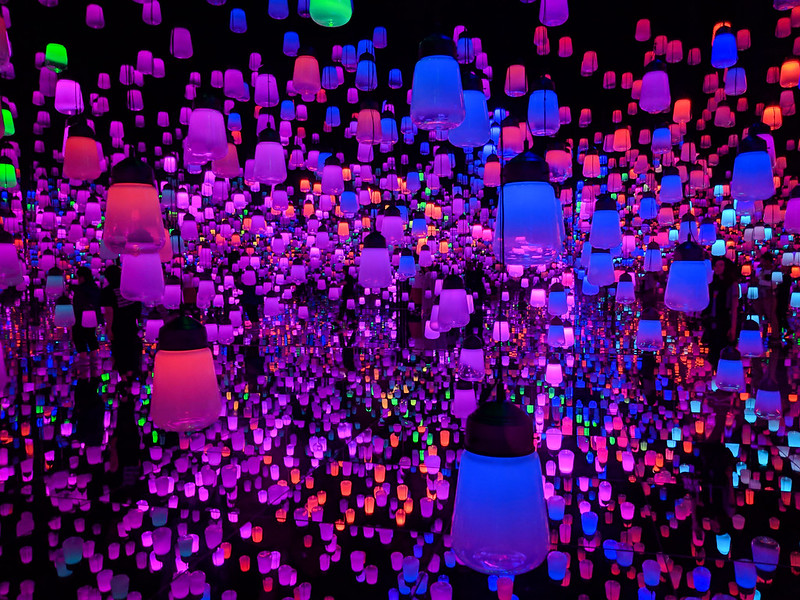 (Image by keimevo via https://www.flickr.com/photos/keimevo/46398908872/)
The Forest of Lamps is the most popular among the five zones due to its fairy-tale setting. The room is filled with countless lamps that react to a person's presence. When you stand close to a lamp, colourful light spreads through the nearby lamps. The presence of other people makes it even more colourful.
5.  EN Tea House
The magical experience won't leave you even as you drink your tea at the EN Tea House! The tea house is dark except for the lights that radiate on every person's table. Flowers bloom and move in your teacup as if they have a life of their own!
More Information
teamLab Borderless
Odaiba Palette Town 1-3-8
Aomi, Koto Area,
Tokyo
Best time to visit
teamLab Borderless operates whole year round but may be closed during Japanese holidays. Be sure to check their website for holiday announcements prior to your visit.
To avoid the big crowds, it is best to set your visit late in the afternoon.
Visiting Guidelines
Recommended attire: Comfortable shirt or blouse, pants, and closed shoes.
Women wearing high heels and others in sandals may borrow a pair of shoes at the shoe counter for free.
Use of lockers is provided for free.
Touching of lamps is prohibited at the Forest of Lamps.
Access
The nearest stations to teamLab Borderless are Tokyo Teleport Station on the Rinkai Line and Aomi Station on the Yurikamome Line. teamLab Borderless is just a 5-minute walk from both stations.
Opening Hours
10:00 a.m. to 7:00 p.m. (Monday to Thursday, Sunday & holidays)
10:00 a.m. to 9:00 p.m. (Friday to Saturday & holiday eve)
Admission
Adults – 3,200 yen
Children (4 to 14 years old) – 1,000 yen
Reservation is recommended.
For the EN Tea House, 500 yen for hot and cold teas.