Modelled after a traditional Edo raised storehouse, from the outside the Edo Tokyo Museum looks like an enormous spaceship crossed with a luxury cruise ship. As the train pulls into the Ryogoku district where the museum is located, you can see the building hovering over the Kokugikan sumo stadium about to beam up all of the wrestlers. This museum is Japan's premier museum dedicated to the history of Japan's capital city, Tokyo.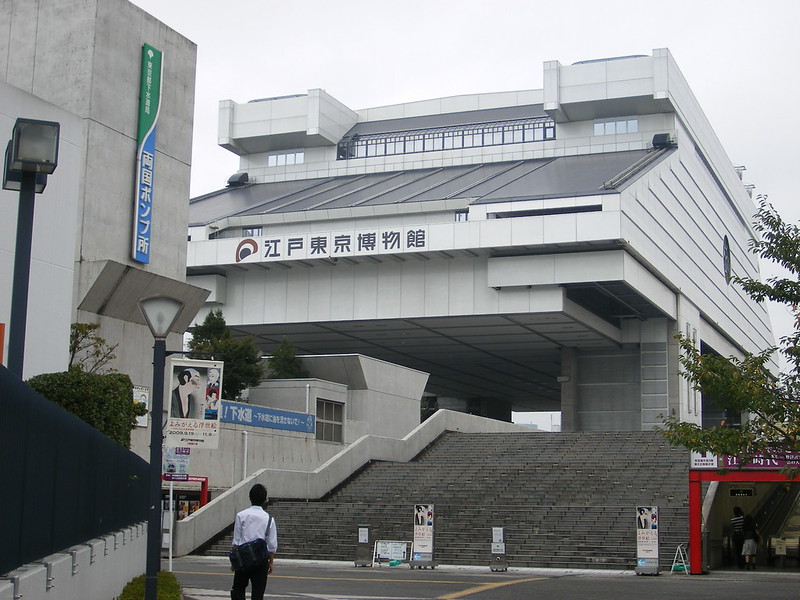 (Image by fletcherjcm via https://www.flickr.com/photos/maryandjc/3977068202/)
What is Edo Tokyo Museum?
Before becoming "Tokyo" in 1869, this area used to be referred to as Edo. At the Edo Tokyo Museum, you can learn all about the fascinating history of Edo. The museum showcases the way that people used to live through unique displays, some of which are life-size. One of the most impressive attractions: a full-scale model of Nihonbashi Bridge, which allowed people to pass into Edo. Also of interest are the numerous recreated buildings, such as nagaya apartments, that really allow guests to imagine how life was like in the Edo period. The museum is full of all sorts of real and recreated artifacts—some of which you can even touch. It's a great opportunity for kids and adults alike to explore and learn about what daily life was like for the people of Edo.
The Edo Tokyo Museum requires at least two hours to see properly. The Edo Tokyo Museum is a historical and cultural resource with imaginative presentations, interactivity, and user-friendliness – for English-speakers, too.
Almost every facet of life in old Tokyo is on show at the museum in a compelling and memorable way. There are numerous intricately constructed and minutely finished scale models, reconstructed historical buildings that can be walked through, and a wealth of realia from over the ages presented close up, sometimes even hands-on.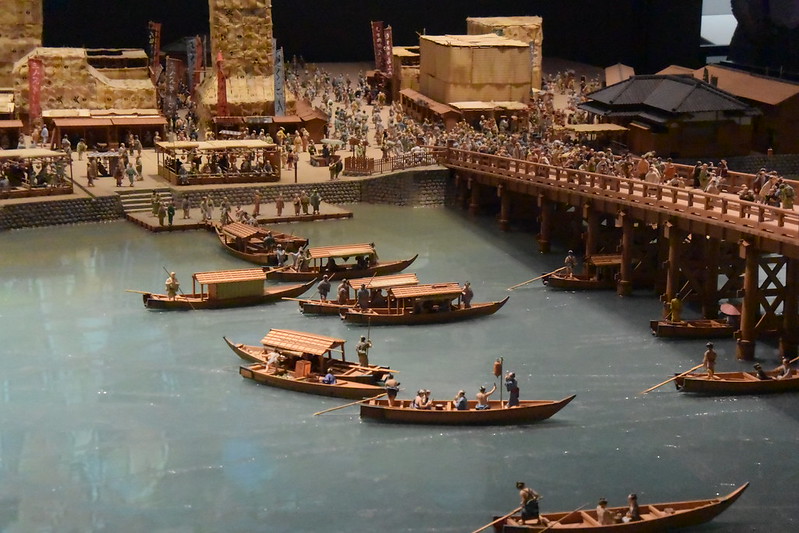 (Image by Özgür Cam via https://bit.ly/2w88P4z)
Permanent Exhibition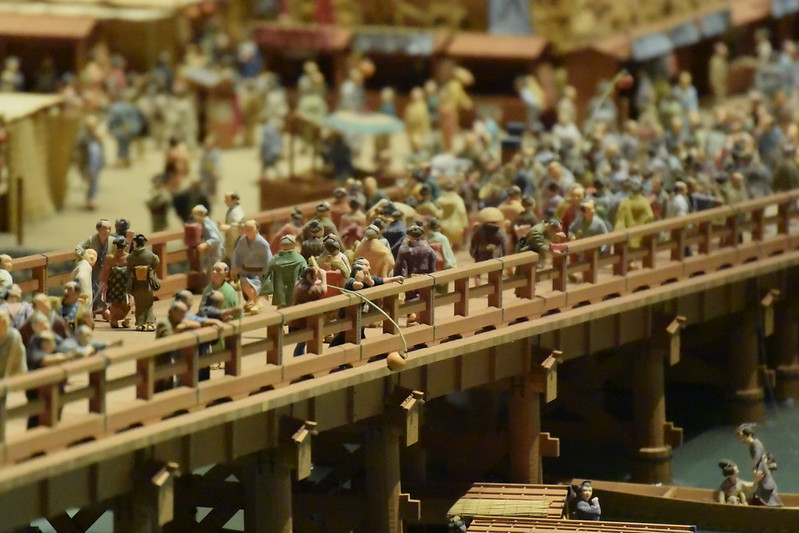 (Image by Özgür Cam via https://www.flickr.com/photos/oezguerc/20487508064/)
Just like many other museums, this museum has both exhibitions that are permanent as well as special ones that are only in exhibition for a limited period of time. In the permanent exhibition, on entry the visitor is plunged into a replicated old Edo, crossing a life-size replica of the Nihonbashi Bridge. From here you look out over a vast space that resembles more an indoor version of a theme park than a traditional halls-and-corridors museum.
The extensive Edo section of the museum follows into modernized pre-War Japan – again presented in compellingly real detail and atmosphere. Especially recommended is the section dealing with Tokyo during the Second World War.
Perhaps best of all, all exhibits have at least some English explanation, explanations notable for their balanced and often politically enlightened commentary. This is therefore perfect for tourists coming from abroad.
Special Exhibitions
The Edo Tokyo Museum usually has a special exhibition running in addition to the permanent exhibition, covering some aspect of Tokyo's history, art, geography etc. Special exhibitions are charged for separately from the permanent exhibition, but a combination ticket is available with a considerably reduced permanent exhibition entry fee. For more information, please check the official website to see what is currently on now at the Edo Tokyo Museum.
Tips
A volunteer guide is available (free of charge) for the permanent exhibition hall
An audio guide is available for the permanent exhibition (in 13 languages). *A deposit is required (to be returned after use)
The museum features interactive displays that you can enter and touch.
More Information
Edo Tokyo Museum
1-4-1 Yokoami, Sumida-ku,
Tokyo 130-0015
Access
Take the JR Chuo line train to Ryogoku station. From there, it's about a 5-minute walk.
Opening Hours
9:30am – 5:30pm, but open until 7:30pm on Saturday.
Closed Monday, but open if Monday a public holiday, in which case closed the next day.
Admission
600 yen for adults, 300 yen for children.
Take note that special exhibitions are charged separately.