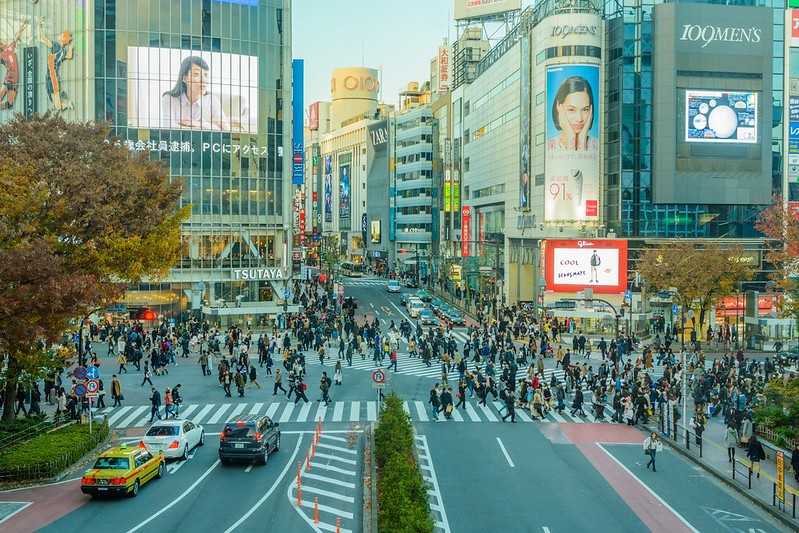 (Image by Yoshikazu TAKADA via https://bit.ly/2XSEDc6)
One of the best-known symbols of Tokyo is the busy pedestrian scramble outside Shibuya station. Virtually anyone who's ever come to the capital has probably been drawn to it at some point. People refer to it variously as Hachiko Crossing, Shibuya Crossing or the Shibuya Scramble. Whatever you want to call it (for the sake of convenience, we'll follow the example of local businesses here and call it the Scramble), it's a true tourist magnet.
The chaotic free-for-all of foot traffic, with people zigzagging every which way to get across the street, almost seems tailor-made to form an establishing shot of the metropolis on film. Here are some of the places you can go to catch a bird's eye view of the Scramble.
1. Magnet by Shibuya 109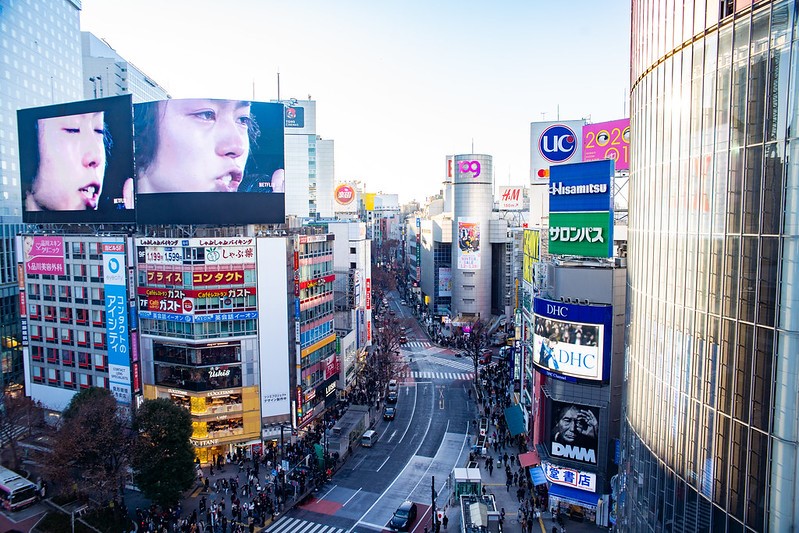 (Image by Dick Thomas Johnson via https://www.flickr.com/photos/31029865@N06/49997450386/)
A familiar sight to Tokyoites and tourists is the landmark of Shibuya 109, the department store housed in a tall, cylindrical structure on the corner between Dogenzaka and Bunkamura Street. Until recently, the 109 Men's branch sat in a separate building that was directly adjacent to the Scramble. That building has since undergone a renewal and re-branding as Magnet by Shibuya 109.
On the seventh floor, you can take the XXXL eating challenge at Japan's first Fatburger. The popular L.A.-based chain will add you to its wall of fame if you can finish its U.S. Kingburger—two triple cheeseburgers stacked together for a grand total of six patties under one bun. Other restaurants on the same floor include Onigiri Bar, which serves Spam onigiri (Japanese rice balls). If you don't have the appetite for such novelty food, you can always just skip straight to the rooftop of Mag's Park.
Follow the signs to the door where an outside staircase leads up to the roof. There you will find Crossing View, the open-air observation deck overlooking the Shibuya Scramble. The rooftop and its hip, graffiti-tagged walls double as an event space, so you'll need to cut through tables and chairs to access the observation deck.
Opening Hours: 11am – 11pm
Address: Mag's Park Rooftop, Magnet by Shibuya 109, Tokyo
Admission Fee: ¥300 entrance fee
2. Shibuya Sky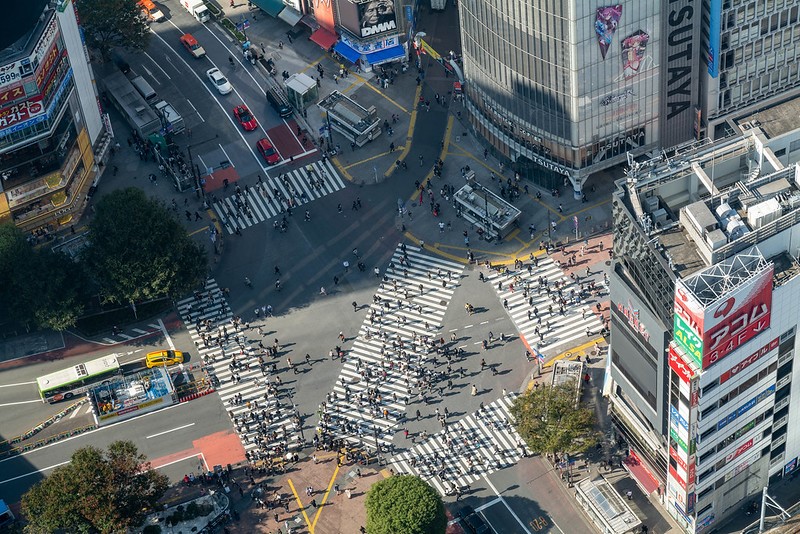 (Image by Real Estate Japan via https://www.flickr.com/photos/185008797@N05/48995414042/)
Shibuya station currently has a number of new skyscrapers popping up around it. The area is in the middle of a huge redevelopment project, so these days half-finished high rises and construction cranes are a common sight.
In 2018, a riverside complex called Shibuya Stream opened. Most recently in 2019, the new 230-meter skyscraper, Shibuya Scramble Square also opened its doors. This one directly connects to Shibuya station and is topped with Shibuya's largest observation deck, Shibuya Sky. The 230-meter view encompasses other parts of Tokyo like Shinjuku too. On a clear day, you can even see as far away as Mt. Fuji.
Shibuya Sky features an open-air rooftop lookout where you can enjoy the cloud breeze as you overlook the city. Although there are a few other rooftop lounging areas around Tokyo, this new building is the highest and has the best 360-degree view in comparison to the rest.
Opening Hours: 9am – 11pm
Address: Shibuya Scramble Square 14F, Tokyo
Admission Fee: ¥2,000 (Adults), ¥1,600 (Students), ¥1,000 (Elementary Students), ¥600 (Children aged three to five), Free (Under two)
3. Shunsai
One of the best-kept secrets for aspiring Scramble birds might be Shunsai, the Japanese restaurant high up on the Shibuya Excel Hotel Tokyu's 25th floor. If you get a window table on the far-right corner at Shunsai, you should have a good view of the Scramble down below. The restaurant serves kaiseki meals, comprised of numerous small dishes served on one individual tray. Reservations are available for lunch and dinner; breakfast is first-come, first-serve.
Where Starbucks has this restaurant beat is in the affordability department. The two cheapest options at Shunsai are the Japanese breakfast (¥2,851) and the bento box lunch (¥2,900). Dinner is upwards of ¥6,500.
Having said that, Shunsai allows you to get a better view of the Scramble's layout as a whole and its atmosphere is generally much more serene and enjoyable than Starbucks. Other options in the hotel building are the Estacion Café down on the fifth floor (though not the best pictures from this vantage point, since the view is partially obstructed) and the French restaurant A Bientot, which is located across from Shunsai on the 25th floor.
The elevator to the 25th floor is only for guests, but A Bientot serves a Western-style breakfast buffet in the morning and if you're eating there, you can probably snag some Scramble photos from the window near the elevator. When all else fails, you could always splurge on a room at the hotel and request one with a view of the Scramble.
Opening Hours: 7am – 10.30am, 11.30am – 3pm, 5.30pm – 11pm
Address: Shibuya Excel Hotel Tokyu 25F, Tokyo
Admission Fee: It's a dine-in restaurant, so the costs depend on what you order. The two cheapest options at Shunsai are the Japanese breakfast (¥2,851) and the bento box lunch (¥2,900). Dinner is upwards of ¥6,500.