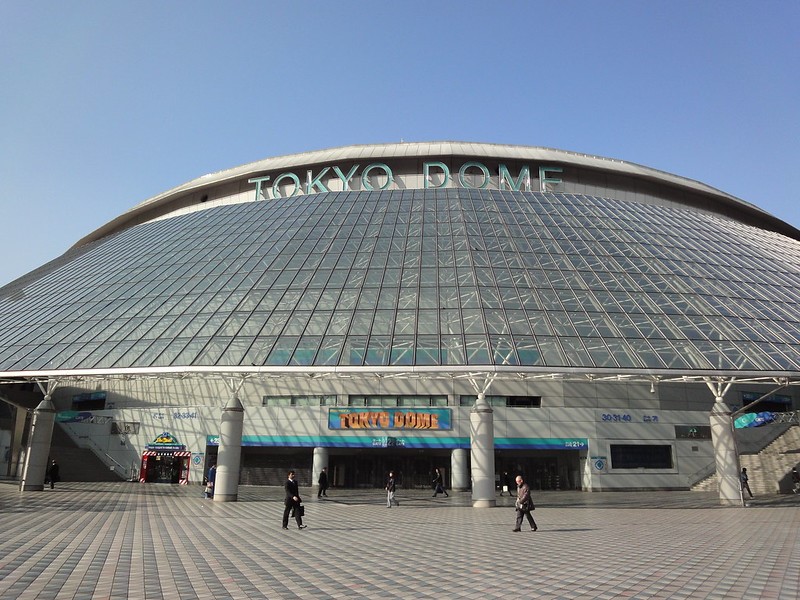 (Image by Marufish via https://www.flickr.com/photos/marufish/4152761393/)
Tokyo Dome in the Koishikawa district of Tokyo's Bunkyo ward is Japan's biggest indoor baseball stadium, seating over 40,000 people. Tokyo Dome is the major feature in the Tokyo Dome City entertainment complex. It covers 4.67 hectares (about 11.5 acres) and is almost 62 meters (292 ft) high from playing field to roof. The fabric roof is supported by the air pressure being kept a little higher inside the Dome than outside.
Brief History of Tokyo Dome
Tokyo Dome opened in 1988. From 1871 until 1935, the site it is on was Koishikawa Arsenal, producing munitions and early warplanes. After the war, it became the centre of Tokyo's cycle racing until 1972 when all sports gambling was prohibited by the city. It became the site of Korakuen Stadium, with a pool and golf shooting range, until Tokyo Dome replaced it in March 1988 as Japan's biggest fully covered baseball stadium.
Tokyo Dome City's Various Facilities
Became Both A Sport & Music Venue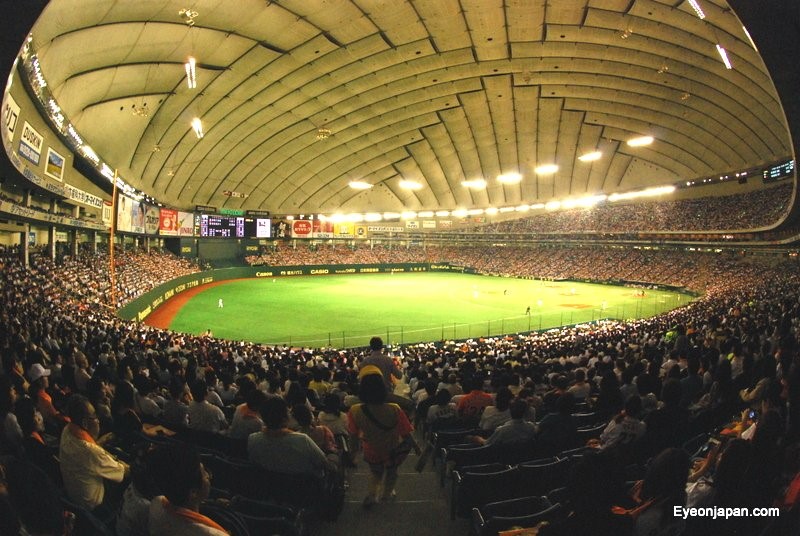 (Image by Richie Johns via https://www.flickr.com/photos/bignavijp/3867795718/)
Tokyo Dome is the home turf for the Yomiuri Giants baseball team – Japan's most famous ball club. As a baseball stadium, Tokyo Dome is unusual for having a much larger foul territory than most, with a large number of spectator seats in the foul territory, a high outfield fence: 4.24m (almost 14 ft), and no warning tracks.
Tokyo Dome is also used for a variety of other sporting and cultural events, including football, basketball, pro wrestling, boxing, K-1 kick boxing, and music concerts. International performing artists often play at Tokyo Dome.
Includes a Baseball Hall of Fame and Museum
The Baseball Hall of Fame and Museum is housed inside Tokyo Dome, just to the right of Gate 21 of Tokyo Dome. It preserves and exhibits the history and memorabilia of baseball in Japan.
Read more about the Baseball Hall of Fame and Museum
Tokyo Dome Hotel For Your Accommodation Needs
Tokyo Dome Hotel was added to Tokyo Dome City in 2000, designed by the famous architect, Kenzo Tange. With 43 floors it offers good views of Tokyo, and its central location makes it an excellent base for visiting Tokyo. Includes several restaurants, bars, and other facilities individual and corporate.
Tokyo Dome City Attractions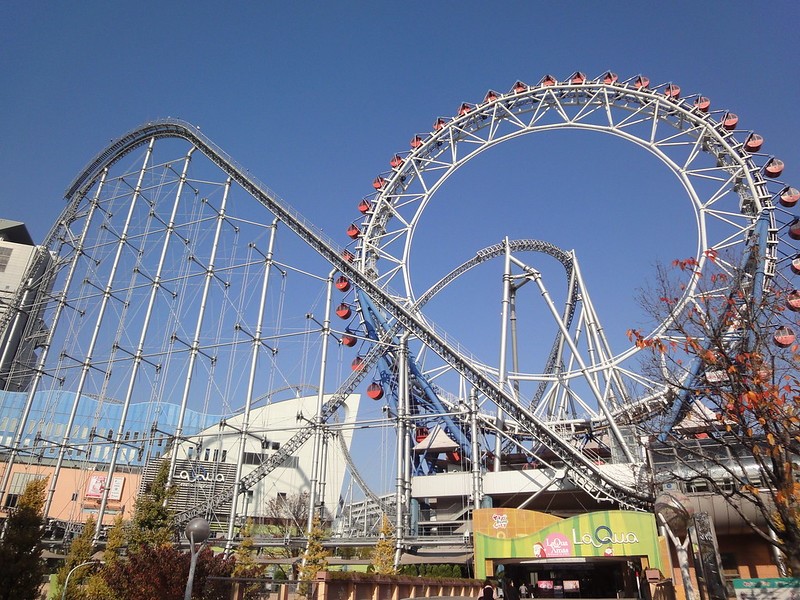 (Image by Marufish via https://www.flickr.com/photos/marufish/4152771407/)
Tokyo Dome City Attractions is a recreation complex with numerous attractions for all ages. There is a Ferris wheel; various theatres; indoor bowling; several cafes and restaurants, including the Baseball Cafe, a huge restaurant serving Western-style food in a baseball-themed atmosphere; and rides for young children such as the indoor Pixie Cups, and the outdoor Kokokko ride in the Splash Garden. The terrifying, 1,067m- long Thunder Dolphin roller coaster starts with an 80-meter drop, has speeds of up to 130 km/h, and costs 1,030 yen.
Space Museum TeNQ ("ten-cue") is an "entertainment museum" full of audio-visual experiences introducing the excitement and mysteries of the universe and space travel. It is located on the 6th floor of the Yellow Building – next to Tokyo Dome Hotel.
Spa LaQua
Spa LaQua is a rest and relaxation facility occupying floors 5 to 9 of the 9-floor building across the road from Tokyo Dome, offering bathing in natural hot spa water, piped up from several hundred meters below the city. Beauty services, massage, and fitness facilities also available.
Meets Port
Meets Port is a distinctive cylindrical building on the south-east corner of Tokyo Dome City. Its five floors provide a selection of restaurants, pubs and cafes, as well as a convenience store. The 3rd floor opens out onto a pleasant garden with seating, through which the rest of Tokyo Dome City can be accessed. The establishments in Meets Port generally open from around 11 am (although the Starbucks opens at 7 am) until about 11 pm, depending on the store.
More Information
1 Chome-3-61 Koraku,
Bunkyo City,
Tokyo 112-0004
Access
Tokyo Dome City is best accessed from Suidobashi Station on the JR Chuo Line (only the yellow local trains stop here) or from Korakuen Station (served by the Marunouchi and Namboku Subway Lines) or the adjacent Kasuga Station (served by the Oedo and Mita Subway Lines).
From Tokyo Station
8 minutes and 170 yen by Marunouchi Subway Line or 10 minutes and 160 yen by JR Chuo Line with a transfer from the orange rapid service to the yellow local service at Ochanomizu Station.
From Shinjuku Station
15 minutes and 170 yen by yellow JR Chuo Line.